A Certain Something
8 p.m. |
Free |
21 and over
About A Certain Something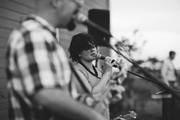 A Certain Something...
Born of a lack of genre, but a love for melodic, fun music, A Certain Something... has brought together the trio of Matt and Brooke Sturtevant and Jason Molinaro.
Brooke and Matt met at Mt. Hood Community College in fall of 2000, where they both performed in Genesis, a world-premiere vocal jazz ensemble - a trip to New York sealed the deal for their love of each other and of performing together. They both have instrumental and vocal backgrounds, starting at a very young age - Brooke started singing at the age of 5 in church, and fell in love with the violin at the age of 10. Matt sang from the time he was able to talk, and was a star trumpet player through high school. He taught himself guitar when he started college, and it has been his instrument of choice ever since. Matt's unique style of song-writing, rich, raspy vocals and ooze of talent have landed him in different band settings, but Brooke's sultry-sweet alto and a shared love for the same sappy and danceable cover songs keep him circling back to their own musical endeavors.
In 2013, they realized they were missing something (A Certain Something...?) and asked their extremely talented friend, Jason to start playing with them. Jason's musical origins are in drumming, which he started at 8 years old. He picked up the guitar when he was 14, and when his family moved across the country from Philadelphia to San Francisco in 2006, he couldn't move his drum set with him, so guitar has been his sole focus since then. He moved to Oregon to attend Linfield College that same year, started working for McMenamins, and met Matt. He rocks.
They aren't quite pop, aren't quite rock, have some roots in jazz, can do a bit with country...but they have A Certain Something...that keeps audiences coming back for more.
Map & Directions
Tags for this Event:
Property > Boon's Treasury
Related content (tags):