at Crystal Hotel
303 S.W. 12th Ave.
Portland, OR 97205
Local: (503) 972-2670
Elsewhere: (855) 205-3930
Contact Us
Wil Kinky
with special guest
1000 Fuegos
Wil Kinky Trio
7 p.m. |
Free |
21 and over
About Wil Kinky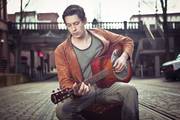 Wil Kinky sound is soulful and bluesy with an alternative edge. He calls his style: South Paw Soul - due to his unusual left-handed guitar approach. He sounds like a blend between John Mayer and Ray Lamontagne. In his early twenties, Wil has been playing music since he was thirteen. Born and raised outside Portland on a blueberry farm, hard work has always been a part of his life. Wil Kinky brings the same work ethic to his music, with a love and a passion that you can feel.
Wil performs solo as well as with his band the Wil Kinky Trio and guests with other acts like Jordan Harris, Keegan Smith, Krista Herring and Tony Smiley. Wil is also an in-demand guitar instructor - teaching guitar and piano in the Portland Metro area.
www.wilkinky.com
Website:
About 1000 Fuegos
Wil Kinky on 1000 Fuegos: Adolfo plays a blend of Latin with Soul and RnB which is high energy and very danceable. I simply call this "Feel Good Music." I got to know Adolfo from playing with the former members of his band NIAYH. I missed ever seeing their band but have gotten to know this like-minded tribe of musicians. Like Adolfo, they are true to themselves and believe that making music is art. My trio will be there that night to add to the festivities.
About Wil Kinky Trio
Wil Kinky on Joshua Corey and Christopher Friesen:
Most of the time, when I play as a "band" it's with these two musicians: Joshua Corey and Christopher Friesen. Josh is from Lewiston Idaho and has been a professional drummer who excels at many different styles and is now studying jazz at PSU. Chris is a skilled fretless bassist - originally from Molalla. He can adapt to any style and is good at improv - which is key to what I like to do. He and Josh have played together in various bands over the years and they really lock in well well together. Through years of playing and rehearsing we have become a very tight unit. But most importantly they are both dedicated to making the songs work! I am excited and proud to finish the residency with them!
Map & Directions
Tags for this Event:
Music > Singer/Songwriter
Property > Crystal Hotel
Related content (tags):