A truly remarkable destination.
2126 S.W. Halsey St.
Troutdale, OR 97060
Local: (503) 669-8610
Elsewhere: (800) 669-8610
Contact Us
Edgefield Concerts On The Lawn
Panic! At The Disco
with special guests Walk The Moon
and Youngblood Hawke
5 p.m. doors, 6 p.m. show |
$39.50 advance, $43 day of show (no reserved seats) |
All ages welcome
Buy Tickets
Tickets on sale now!
All tickets available through EdgefieldConcerts.com, in person at the Crystal Ballroom box office, Bagdad Theater, Edgefield Gift Shop and charge by phone at 1-800-514-3849. Ticketing services provided by Etix.com. (Subject to service charge and/or user fee.)
Edgefield proudly hosts the sixth year of Concerts on the Lawn, an outdoor music series that has become a summer tradition for fans throughout the Pacific Northwest.
For complete information about the acts, the venue, rules, policies and much more, please visit edgefieldconcerts.com. Check out photos from past shows at Edgefield, as well!
Please note:
- Low-profile lawn chairs and blankets only
- No picnics or outside food or beverages
- No re-entry
- No pets
- No camping
- No RVs
- No unauthorized vendors
About with special guests Walk The Moon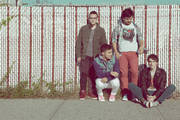 Nicholas Petricca (vocals, keyboards)
Kevin Ray (bass, vocals)
Eli Maiman (guitar, vocals)
Sean Waugaman (drums, vocals)
This past June, Seattle news and culture blog Seattlest.com posted a review of a show by Walk The Moon. It read like this: "Walk The Moon hit the stage with so much energy that the crowd immediately pushed forward and started dancing. It's refreshing to see a band that's having as much, or more, fun than the people there to see them. They took us back to the days of basement dance parties on hot summer nights, where everyone's just happy to be alive and among friends."
That review pretty much sums up this young Cincinnati band's mission statement: "We want our music to be the most fun thing you've ever listened to in your entire life," says bassist Kevin Ray. "We want it to not just affect you emotionally, but also physically in that it makes you want to dance."
Everything Walk The Moon does is infused with a playful spirit, from their radiant live shows, where the crowd often coalesces into one joyful, pogo-ing mass, to the songs the band are currently recording for their debut album. The music brims with sparkling synth-heavy pop hooks, chanted melodies, sunny harmonies, and agile polyrhythmic grooves - a sound influenced by the New Wave stylings of their favorite artists Talking Heads, David Bowie, and The Police. "We started describing it as an 'indie-pop fiesta' and that kind of stuck," says singer, songwriter, and keyboardist Nicholas Petricca.
Launched in 2008 by Petricca, Walk The Moon has steadily made a name for itself as an unsigned band over the last few years, attracting a broad mix of fans who have happily submitted to a pre-show face-painting ritual conducted by band members to get everyone into the communal spirit of the event. "Sometimes it's like, 'Dude, what are you doing here? How have you heard of us?'" marvels guitarist Eli Maiman. "But they're there, they've got face paint on, and they're playing air guitar. It's awesome. We just create the music we love and hope that other people love it, too."
Walk the Moon's appeal has also extended to such press outlets as Spin.com, The New York Post, Esquire.com, MTV.com, as well as Nylonmag.com, who called them "pure, unadulterated fun" and NME.com, who raved about their "bold, broadly beaming" sound. They were also handpicked to be featured during SXSW on Last Call With Carson Daly.
So who is Walk The Moon? Petricca, Ray, Maiman, and drummer Sean Waugaman are all Ohio natives in their early 20's who became acquainted in various ways. Petricca and Ray knew each other as toddlers (their mothers were close friends), Ray and Waugaman had played in bands together, and Petricca met Maiman through the local scene in Cincinnati.
"Being a musician has always been a career dream for me," says Petricca, a golden-throated crooner who began playing piano as a child and singing in high school. "So I needed to find people who wanted to do this as badly as I did, which these guys all did." Their first gig together was at Cincinnati watering hole the Northside Tavern. "We thought, 'If we could just get 50 people in, the room would look fine," Ray recalls. "Then 350 people showed up." Walk the Moon's shows, including jubilant sets at this year's SXSW, Bonnaroo and Lollapalooza festivals, boasted a similar vibe. "Bonnaroo was everything we could want from a Walk The Moon show," Waugaman says. "Everybody was sweaty and muddy. There were people standing on tables and on each other."
Walk The Moon are currently in the studio, and are looking forward to finishing up their album, which is being produced by Ben H. Allen (Gnarls Barkley, Animal Collective). The album will feature a host of new songs as well as new versions of songs from their independently released 2010 album I Want, I Want, including the viral sensation "Anna Sun." The eye-catching video for "Anna Sun" sparked major buzz when it was posted on tastemaker blog "All Things Go" and tweeted about by indie label Neon Gold Records.
"We wanted the video to get people interested and then for the live show to kick their asses," Petricca says. The clip for "Anna Sun" - a happy-sad sing-along affair that claims "this house is falling apart" before declaring "We're gonna rattle this ghost town!" - features Petricca cavorting with colorfully dressed young Cincinnatians sporting leotards, headbands, and face paint. The video neatly captures the creative heart of Walk The Moon's music.
"I like to write about this idea of feeling young throughout your life," Petricca says. "'Anna Sun' is about eternal youth, and it recalls a lot of my memories from college, but it also addresses the fear of losing that innocence and falling into a routine. I feel like the things we do to escape, like going out and partying, are to recapture the imagination you had a child, which is something that speaks to me personally as a songwriter. All of my favorite songs have always set my imagination running. In that sense, I love the idea that we could be a band that gets people into Neverland, and lets them make their own movie in their head while they're listening."
Website:
About and Youngblood Hawke
Inspired by the Herman Wouk novel of the same name, Youngblood Hawke was born out of late night creative musings between longtime friends Sam Martin and Simon Katz. Exhausted by two years of touring with their former band and the general turbulence that comes with music industry success, Martin and Katz looked for a more simple creative outlet where they could write and share music with friends and family without commercial pressures. Katz's longtime friend Tasso Smith moved to Los Angeles from Texas to join the band when he heard the first demos, and Alice Katz, who was a key part of the original songwriting sessions, joined as well. To round out the lineup they recruited drummer and friend Nik Hughes.
Youngblood Hawke captures the sound of 5 friends in mid-journey. It is the snapshot of a state of mind where, one mountain has been climbed, and there are more in the distance. But for right now, the view is beautiful.
Website:
Map & Directions
Tags for this Event:
Music:
Rock
Alternative/Indie
Property > Edgefield
Related content (tags):