In the heart of Oregon's wine country...
310 N.E. Evans Street
McMinnville, OR 97128
Local: (503) 472-8427
Elsewhere: (888) 472-8427
Contact Us
St. Patrick's Day Celebration at Hotel Oregon
with Live Music by
Celtic Curve
Brothers Dunne
Will West & The Friendly Strangers
and
Special Release: St. Patrick's Day Whiskey
All Day! Music begins at 4 p.m. |
Free |
All ages (except Cellar Bar)
About St. Patrick's Day Celebration at Hotel Oregon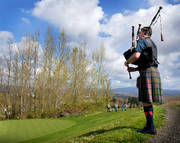 We do so love this particular holiday! At spots across "County McMenamins," we'll offer live music, bagpipers, McMenamins Irish Stout, Irish Coffee cocktails, Irish food specials and more.
Schedule
Events free & all ages unless noted
4 p.m. 'til 6 p.m.
Celtic Curve · Mattie's Room
4:45 p.m.
Irish Dancers · Mattie's Room
6 p.m. 'til 9 p.m.
Brothers Dunne · Irish Americana · Cellar Bar (21 & over)
7 p.m. 'til 10 p.m.
Will West & The Friendly Strangers · Modern folk · Mattie's Room
About Brothers Dunne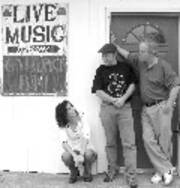 Tommy and Tony Dunne have been performing live around the Northwest since the '80s. The brothers learned music in grade school by virtue of the good nuns at St. Thomas More with spiritual assistance from Lennon, McCartney, and the Clancy Brothers -- The British invasion meets the Irish uprising!
"Sister" Mary Harvard was let out of the family's basement and joined the brothers' musical escapades in 2006, contributing her own folk influence, added instrumentation, and Part 3 to the buttery tight vocals.
Together the trio provides hours of entertainment, playing a variety of music with an emphasis on Irish folk, a strong emphasis on vocal harmonies, and an even greater emphasis on FUN! Pure entertainment... whether you're Irish or not!
About Will West & The Friendly Strangers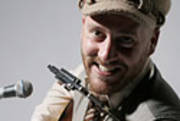 Carolina-born songwriter Will West performs with a rotation of acoustic musicians called The Friendly Strangers, featuring an array of fantastic Portland players on banjo, cello, mandolin, horns, percussion and other surprises.
Will West & The Friendly Strangers are fresh off the release of their new studio album called Take This Moment. Songs have been featured in KINK fm101.9 and KZME fm107.1 in the greater Portland area.
Carolina-born performer/songwriter Will West has called Oregon home since 2002. The son of a fiddle player, he cites bluegrass, delta blues and heavy metal music as some of his early influences. Now he finds inspiration in the amazing landscape of the Pacific Northwest.
West released his first album, Shine, in late 2006. Recorded with Rob Stoup (Imprints & Baseboard Heaters) at 8 Ball Studio in Portland, the album features Bob Soper (fiddle) and Noah Peterson (soprano sax).
His live performances continue to evolve and change. As a solo performer or with variations of a band, West pulls off fantastic acoustic guitar playing with smoothly delivered vocals and harmonica. Every show is an experience and it's all about the vibe...
"He incorporates rootsy, acoustic folk with a bluesy, almost hip-hop-like sense of rhythm. West is a funky, acoustic pop songsmith with a flare for lyricism and rich melodies." - Post & Courier (Charleston, SC)
"West's clean guitar and polished voice feel like warm sunshine through a car window." - Independent Weekly (Raleigh, NC)
"A favorite of those Delta Blues/Folk lovin' Types. Never performing a song the same way twice. This crooner is a storyteller with a soft touch. Check him out. " - Willamette Week
website:




MySpace page:
About Special Release: St. Patrick's Day Whiskey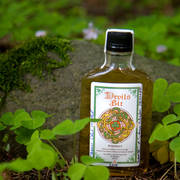 The highly coveted, limited-edition McMenamins Devils Bit Whiskey returns for its St. Patty's Day debut on Monday, March 17 at select locations!
With fewer than 1,000 bottles produced, this aged spirit is released on our favorite holiday – and when it's gone, it's gone! The 200-ml flask bottles can be purchased for $17 (two per person maximum) to-go at these McMenamins spots (which will all be festively celebrating the holiday as well!):
Edgefield Gift Shop Troutdale · opens 7 a.m.
Kennedy School Gift Shop Portland · opens 7 a.m.
Crystal Hotel Portland · opens 7 a.m.
Old Church & Pub Wilsonville · opens 11 a.m.
Old St. Francis School Bend · opens 7 a.m.
Cornelius Pass Roadhouse Hillsboro · opens 11 a.m.
Grand Lodge Forest Grove · opens 7 a.m.
North Bank Eugene · opens 11 a.m.
Roseburg Station Roseburg · opens 11 a.m.
Hotel Oregon McMinnville · opens 7 a.m.
Lighthouse Pub Lincoln City · opens 11 a.m.
Gearhart Hotel Gearhart · opens 7 a.m.
Devils Bit Details
They don't call it the well-traveled barrel for nothing! Handcrafted at the McMenamins Edgefield Distillery, this whiskey was double distilled from a mash of 100 percent two-row malted barley in 2006. From there it went into a new 53-gallon, charred American white oak barrel, where it aged for two years. Then it spent two years in a new 30-gallon American white oak barrel and three more years in a barrel previously used for McMenamins Port-style wines. Finally, it was finished for a year in a barrel previously used for making McMenamins wheat-based whiskey.
As a result, this year's Devils Bit is far more complex than expected of an eight-year-old whiskey. The aroma is balanced between the malt, the sweet new oak and the notes of Port wood. It tastes like a piece of chocolate cake with a cherry glaze. Sláinte!
Devils Bit Lore
We history lovers enjoy dreaming up fanciful identities for McMenamins hand-crafted products. Devils Bit Whiskey was named after a mountain in North Tipperary, Ireland. Legend has it that a small gap in the mountain is where the devil took a bite and spit out the rock. That spit-out piece became the Rock of Cashel, which was the traditional seat of the kings of Munster in Ireland for several hundred years; most of the buildings that remain on the site date from the 1100s and 1200s. According to legend, Cashel is also the site of the conversion of the King of Munster by St. Patrick in the 5th century.
Edgefield Distillery:
Map & Directions
Tags for this Event:
Events:
Beer, Wine, and Spirits
Holidays
McMenamins Celebrations
Movie Types > All Ages
Music > Alternative/Indie
Property > Hotel Oregon
Related content (tags):