In the heart of Oregon's wine country...
310 N.E. Evans Street
McMinnville, OR 97128
Local: (503) 472-8427
Elsewhere: (888) 472-8427
Contact Us
Halfway to St. Patrick's Day
with live music by
Will West & The Friendly Strangers
Castletown
Brothers Dunne
Saturday, September 13, 2014
All day; Music begins at 4 p.m. |
Free |
All ages (except Cellar Bar)
About Halfway to St. Patrick's Day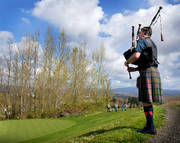 OK, we know, it's kind of a wacky idea – no one celebrates halfway to St. Valentine's Day, right? (Although, now that we think about it... nahhh...)
But, regardless, we love St. Patrick's Day and we love being halfway to it! So let's have some drinks, hear some music and have a full-on good time together. Because why not?
** SCHEDULE **
Free · All ages welcome (except Cellar Bar, 21 & over)
4 p.m 'til 6:30 p.m. · Brothers Dunne · In Mattie's Room
7 p.m. 'til 10 p.m. · Will West & The Friendly Strangers · In Mattie's Room
7 p.m. 'til 10 p.m. · Castletown · In the Cellar Bar
** SPECIALS **
Irish Fries Are Smiling
Our fresh-cut fries topped with melted cheddar cheese, crisp bacon, sour cream & green onions
Irish Reuben
Hot corned beef & swiss cheese with buttermilk coleslaw & sweet-hot mustard sauce on grilled rye bread with your side of choice
Iced Celtic Coffee
Irish Whiskey, sugar, cream and our own iced coffee
McMenamins Irish Stout
A coffee-like roasted barley bitterness, semi-sweet chocolate & a moderate hop bitterness balances with this hearty backbone
About Will West & The Friendly Strangers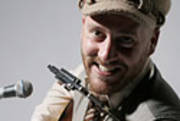 Carolina-born songwriter Will West performs with a rotation of acoustic musicians called The Friendly Strangers, featuring an array of fantastic Portland players on banjo, cello, mandolin, horns, percussion and other surprises.
Will West & The Friendly Strangers are fresh off the release of their new studio album called Take This Moment. Songs have been featured in KINK fm101.9 and KZME fm107.1 in the greater Portland area.
Carolina-born performer/songwriter Will West has called Oregon home since 2002. The son of a fiddle player, he cites bluegrass, delta blues and heavy metal music as some of his early influences. Now he finds inspiration in the amazing landscape of the Pacific Northwest.
West released his first album, Shine, in late 2006. Recorded with Rob Stoup (Imprints & Baseboard Heaters) at 8 Ball Studio in Portland, the album features Bob Soper (fiddle) and Noah Peterson (soprano sax).
His live performances continue to evolve and change. As a solo performer or with variations of a band, West pulls off fantastic acoustic guitar playing with smoothly delivered vocals and harmonica. Every show is an experience and it's all about the vibe...
"He incorporates rootsy, acoustic folk with a bluesy, almost hip-hop-like sense of rhythm. West is a funky, acoustic pop songsmith with a flare for lyricism and rich melodies." - Post & Courier (Charleston, SC)
"West's clean guitar and polished voice feel like warm sunshine through a car window." - Independent Weekly (Raleigh, NC)
"A favorite of those Delta Blues/Folk lovin' Types. Never performing a song the same way twice. This crooner is a storyteller with a soft touch. Check him out. " - Willamette Week
website:




MySpace page:
About Brothers Dunne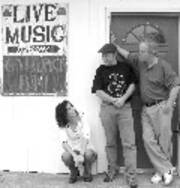 Tommy and Tony Dunne have been performing live around the Northwest since the '80s. The brothers learned music in grade school by virtue of the good nuns at St. Thomas More with spiritual assistance from Lennon, McCartney, and the Clancy Brothers -- The British invasion meets the Irish uprising!
"Sister" Mary Harvard was let out of the family's basement and joined the brothers' musical escapades in 2006, contributing her own folk influence, added instrumentation, and Part 3 to the buttery tight vocals.
Together the trio provides hours of entertainment, playing a variety of music with an emphasis on Irish folk, a strong emphasis on vocal harmonies, and an even greater emphasis on FUN! Pure entertainment... whether you're Irish or not!
Map & Directions
Tags for this Event:
Events:
McMenamins Celebrations
Holidays
Music > Alternative/Indie
Property > Hotel Oregon
Related content (tags):