Back to school in Bend!
700 N.W. Bond Street
Bend, OR 97703
Local: (541) 382-5174
Elsewhere: (877) 661-4228
Contact Us
Halfway to St. Patrick's Day
Five Pint Mary
Fiddlplay
Moon Mountain Ramblers
Steve Allely
Saturday, September 13, 2014
All day; Music begins at 12 noon |
Free |
All ages welcome
About Halfway to St. Patrick's Day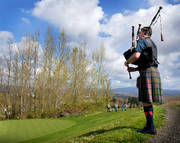 OK, we know, it's kind of a wacky idea – no one celebrates halfway to St. Valentine's Day, right? (Although, now that we think about it... nahhh...)
But, regardless, we love St. Patrick's Day and we love being halfway to it! So let's have some drinks, hear some music and have a full-on good time together. Because why not?
** SCHEDULE **
Free · All ages welcome
12 noon 'til 1 p.m. · Steve Allely · At O'Kanes Square
1 p.m. 'til 4 p.m. · Moon Mountain Ramblers · At O'Kanes Square
4 p.m. 'til 7 p.m. · Fiddleplay · Roving
5 p.m. 'til 8 p.m · Five Pint Mary · At O'Kanes Square
** SPECIALS **
Irish Fries Are Smiling
Our fresh-cut fries topped with melted cheddar cheese, crisp bacon, sour cream & green onions
Irish Reuben
Hot corned beef & swiss cheese with buttermilk coleslaw & sweet-hot mustard sauce on grilled rye bread with your side of choice
Iced Celtic Coffee
Irish Whiskey, sugar, cream and our own iced coffee
McMenamins Irish Stout
A coffee-like roasted barley bitterness, semi-sweet chocolate & a moderate hop bitterness balances with this hearty backbone
About Five Pint Mary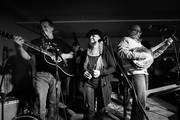 Upbeat, fun, & rollicking, Five Pint Mary plays a unique blend of Irish/Celtic/Eastern folk-rock with an edge of punk. Seven diverse and talented members collectively play guitar, mandolin, accordion, banjo, violin, bouzouki, Irish tin whistle, bass, and drums finished off with layers of tightly woven three part harmony vocals.
Five Pint Mary's influences include the Pogues, the Chieftains, Flogging Molly, and Gogol Bordello. Much of our original music is influenced by the traditional music styles of Ireland, Scotland, and the Eastern block, and is infused with a ripple of American bluegrass. Five Pint Mary is an accomplished pub-style band, who deliver an infectious, fun, and lively world sound that gets people into a rambunctious groove of dancing, drinking ale, and reveling!
Facebook:




Website:
About Fiddlplay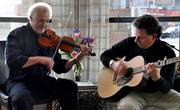 Fiddlplay Music • Featuring
Roland White Fiddle & Mark Barringer • Guitar
Roland White & Mark Barringer bring vitality, energy and heart to their music. From beautiful waltz's to fast paced American and Celtic tunes. The music is alive and engaging with steady rhythms and catchy fiddle melodies. They perform in Central Oregon for Pubs, Weddings, Parties, and Community events.
Roland White has been playing fiddle since 1976. Over the years he has collected 100's of fiddle tunes from different genres including American Old Time, Celtic and styles. He has demonstrated the music of the pioneers for the National Park Service at the Lewis and Clark National Memorial and performed at the North West Folk Life Festival in Seattle Washington.
He is a Two time Oregon State Senior Fiddling Champion and has placed Three times in the Top Ten of the National Fiddle Senior Division. He performs and teaches fiddle in the Central Oregon area and provides fiddlplay.com for local live music and fiddle player resources.
Mark Barringer hails from the San Francisco bay area and played music professionally there for over 20 years in bands and as a solo performer. He has played with some of the best touring and session players in the music business. Mark has been playing guitar since the age of 12 and has explored and performed many different genres including Rock, Blues, Rhythm & Blues, Jazz, Folk, Bluegrass, Celtic and Old Time music. Mark performs locally solo and with a Bluegrass group, Rare Boots.
About Moon Mountain Ramblers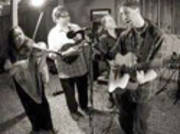 Ramblin' in from all parts of the territory, Moon Mountain has drawn five musicians together to create an original high desert sound and a soulful interpretation of traditional bluegrass, jazz/swing, country and classic rock tunes.
One of Central Oregon's most innovative and entertaining acts, this group has played some of the biggest parties in and around its hometown of Bend and shared the stage with the David Grisman Quintet, Jay Reishman and the Jaybirds, Hot Buttered Rum, Sneakin' Out, Taarka, Jackstraw, New Monsoon, and The Gourds. The band started with a traditional bluegrass sound but has expanded into rock, jazz, funk, irie, hip hop (not a whole lot of that yet though). With the recent addition of Taarka's percussionist Dale Largent, Moon Mountain has taken a huge leap into the wide open world of experimental.
Map & Directions
Tags for this Event:
Events:
McMenamins Celebrations
Holidays
Music > Alternative/Indie
Property > Old St. Francis School
Related content (tags):