Barley Mill's 31st Birthday
McDougall
"Max's Lanson ESB" Birthday Ale
Face painting and hand-painted tattoos
Joe Mishkin "The Balloon Guy"
All Day! Music 6 p.m. 'til 10 p.m. |
Free |
All ages 'til 10 p.m.
About Barley Mill's 31st Birthday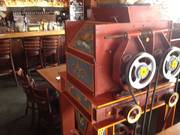 All day fun celebrating The B-Mill! Great food specials including the BBQ Burger, live music from McDougall and "Max's Lanson ESB" special birthday brew – just $3.75/pint all day. For kids of all ages we will have face painting, hand-painted tattoos and balloon art from 2 p.m. 'til 5 p.m., plus birthday cake and giveaways too...
Watch a the video, below, about making our birthday brew.
About McDougall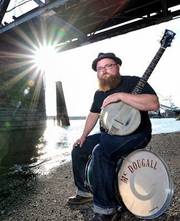 With his imagination often dwelling in the very real places of his past and present, as well as in the possible future, McDougall's songs may very well seat you by a coffee-can fire in the middle of a dry California river-bed, pull you up onto a freight train in the lush spring-time of the Pacific northwest, raise your voice in hymns with the entire family on a Thanksgiving afternoon, or haste your good-bye to civilization as you know it, as you ramble on with all you possess on your back.
Fact, fiction, and a little in between, McDougall carries on the relevant tradition of oral history and folklore, making it a part of everyday life and sharing it with those around him. Inspired by the word of God, his family, friends, fellow workers and fellow travelers met along the way, McDougall wishes to keep to the unwritten rule of using what was left by those before while leaving something of your own for those who will come after.
Facebook page:
About "Max's Lanson ESB" Birthday Ale
Max Zimmerman was a famous Brew Maser. He worked for Blatz Brewing in the Mid-West as well as Blitz-Weinhard here in Portland. After he passed away, his son John, a Hillsdale regular invited Mike and Brian to his father's estate sale. In addition to procuring what would become the Hillsdale's original mash tun and brew kettle, they found an un-open case of 1945 Lanson Champagne. Can you imagine? 1945 was possibly the finest vintage of the century in France. It was the end of the war. It was French Independence. And the wine was in great condition but for two bottles. For ten years straight this Champagne was the foundation ingredient of our Barley Mill Pub Anniversary Ale. The first bottle inspired the name of the 1986 anniversary ale, Longevity. The last bottle went into the batch of 1995, fifty years after the end of the war. This year, we kicked off the annual Barley Mill Brew lunch by uncorking another bottle off Lanson (although not a 1945 vintage!) and toasted Max and his famous Champagne. Cheers, Max!
About Joe Mishkin "The Balloon Guy"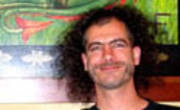 With his incredible balloons, his awesome juggling, his spirited music playing and his daring unicycling and fire juggling, Joe is sure to please your friends, your neighbors, your co-workers, your boss, and you, too!!
Map & Directions
Tags for this Event:
Events > Family
Music > Americana
Property > Barley Mill Pub
Related content (tags):