Saloon & Hotel
836 N. Russell St.
Portland, OR 97227
Saloon: (503) 282-6810
Hotel: (503) 335-8900
Contact Us
Spontaneous Generation Berliner Weisse
"Meet Your Makers"
Special Beer Release
at the White Eagle
Thursday, August 21, 2014
5 p.m. 'til the beer is gone! |
Limited-edition beer tasting at happy hour pricing |
21 and over
About Spontaneous Generation Berliner Weisse
In the middle ages, thinkers theorized that life – if given the proper conditions – could spring up from lifeless matter "spontaneously." So, if you left a pile of rags in the corner, mice would appear if you waited long enough. For this beer, we've recreated the magic of spontaneous generation by storing our wort in the brew kettle overnight and adding lactobacillus to sour the liquid. From the lifeless wort, a tart, tasty, light summer wheat has sprung forth with centuries of brewing tradition behind it.
Malts: Heidelberg, Pale Wheat, and Acidulated
Hops: Tettnanger
OG: 1.031 TG: 1.004 ABV: 3.48%
About "Meet Your Makers"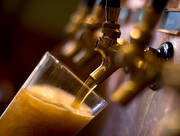 Join us each month at the Bagdad Theater & Pub or the White Eagle to sample a special beer release from our Edgefield Brewery. Meet the brewers and ask beery questions.
Map & Directions
Tags for this Event:
Events > Beer, Wine, and Spirits
Property > White Eagle
Related content (tags):