4045 N.W. Cornelius Pass Rd.
Hillsboro, OR 97124
(503) 640-6174
Contact Us
Spring Invitational: Aged Effects
Special Beer Tasting
• Rum Runner Double IPA
• Rough Ryed Red
• Old Crowenfagen Barleywine 2013
• Vityaz Russian Imperial Stout
6 p.m. 'til the beer is gone |
Limited-edition beer at happy hour pricing all night |
All ages welcome
About Spring Invitational: Aged Effects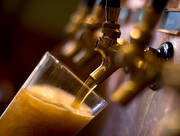 Join us to sample handcrafted aged and barrel-aged beer from multiple McMenamins breweries.
♦
Vityaz Russian Imperial Stout
Crystal Brewery
Mark Goodwin & Dan Black
This imperial stout is black, strong, and mighty tasty. The combined use of six types of malt, two types of hops and a big dose of molasses provides a big bold flavor; coffee, roast, chocolate, caramel, molasses pair up with a slight floral spiciness from the hops. Aging in a Hogs Head Whiskey barrel for 3 months adds to the complexity by adding flavors and aromas of oak, whiskey, and vanilla. The addition of star anise and vanilla beans to the barrel intensifies the already rich and robust character.
Malts: Premium 2-Row, Pilsner, Roast, Black, Vienna, Munich
Hops: Chinook, Brewers Gold
OG: 1.090 TG: 1.020 ABV: 9.03% IBU: 32 SRM: 35
♦
Rum Runner Double IPA
Cornelius Pass Roadhouse Brewery
Chris Oslin and Brady Romtvedt
How does a brewery commemorate its 6000th batch of beer? We invited over the distillers, cranked up the music, and brewed up a huge double IPA. Along the way we christened the brew with ceremonial additions of our favorite rums, conditioned it over multiple courses of dry-hops, and let it matriculate in a rum cask. The result is a robust beer with hints of oak, vanilla, and orange peel complemented by sturdy hop nose with prominent citrus and resin character.
Malts: Superior Pilsen, Vienna, Victory, Cara-Munich 40, Flaked Barley
Hops: Chinook, Citra, Falconer's Flight
Other: Aged in a slightly-wet rum barrel
OG: 1.081 TG: 1.014 ABV: 8.64% IBU: 100+ SRM: 11
Buzz Words: Big, Aromatic, Island-Style
♦
Rough Ryed Red
McMenamins on the Columbia Brewery
Matt Freeland
The journey can be long; a cold beer at the end makes the adventure worth it. This red ale is brilliant in color from the use of Kiln Amber and Red-X malts and a touch of flaked rye gives a subtle complexity to the palate. Mosaic hops bring a fruity hop profile that is accentuated by a dry-hopping addition of Zythos pellets. Hints of tropical and citrus fruits blend with the spicy rye to create a uniquely quaffable brew. To take this adventure one stop further; this brew has been aged on maple wood that has been infused with McMenamins own Herbal #7 Liquor for a month. The ryed might be rough but this brew is smooth. Cheers!
Malts: Halcyon Pale, Red X, Flaked Rye, Kiln Amber
Hops: Mosaic, Zythos Pellets
OG: 1.057 TG: 1.012 ABV: 5.8% IBU: 36 SRM: 10
Buzz Words: Red, smooth, Easy-drinking
♦
Old Crowenfagen Barleywine 2013
High Street Brewery
Hanns Anderson
Brewed with copious amounts of Maris Otter, Melanoidin, and Crystal malts, this beast is rounded out with spicy Chinook and floral Cascade hops, before being aged on bourbon-soaked American oak.
Malts: 2-Row, Maris Otter, Melanoidin, Crystal 135/165
Hops: Chinook, Cascade
OG: 1.094 TG: 1.013 ABV: 10.45% IBU: 81 SRM: 18
Buzz Words: Warm, Velvety
♦
Map & Directions
Tags for this Event:
Events > Beer, Wine, and Spirits
Property > Cornelius Pass Roadhouse
Related content (tags):