4045 N.W. Cornelius Pass Rd.
Hillsboro, OR 97124
(503) 640-6174
Contact Us
Roadhouse Summer Beer Invitational
Other Hoppy Beers
• Silvercone India Pale One-Year Lager
• Hop Train India Session Red
• Thirsty Thor's Belgian IPA
• Titan India Red Ale
Special Beer Tasting
Wednesday, August 27, 2014
6 p.m. 'til the beer is gone |
Limited-edition beer at happy hour pricing all night |
All ages welcome
About Roadhouse Summer Beer Invitational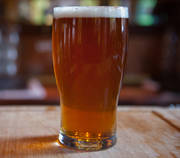 Beers that are known for their hops (but not IPA/DIPA) – think India Session Ale, India Black Ale, and Imperial Red Ale – from Cornelius Pass Roadhouse, Roseburg Station, Thompson, and Old St. Francis breweries.
About • Silvercone India Pale One-Year Lager
CPR Brewery
Chris Oslin and Brady Romtvedt
Silvercone India Pale Lager is the latest testament to our love of hops. In choosing a strain of lager yeast that ferments exceptionally clean, we allowed the spotlight to fall squarely on the hops. The resinous, multi-layered aroma wafting up from your glass and tongue-tickling citrus notes flirting with your taste buds combine with a crisp lager finish to quench your thirst like no ale can. So hoist a pint to the blessed vine, for the love of hops!
Malts: Superior Pilsen, Flaked Barley, Crystal-15L
Hops: Centennial, Simcoe, Citra
OG: 1.068 TG: 1.010 ABV: 7.48% IBU: 92 SRM: 4
♦
About • Hop Train India Session Red
Roseburg Brewery
Tom Johnson
All aboard the Hop Train. Hop Train India Red Session Ale has pulled into the Station hauling boxcars full of Mosaic and Golding hop flavors and aromas. Maris Otter Pale along with Crystal Rye, Melanoidin, Black and Blackprinz malts pull the load and add balance with flavors that complement those of the hops. Although Hop Train is packed with bold flavors, at 4.9% ABV, it is a session ale, and it won't leave you feeling like you got run over by a train. So hop on board before it leaves. You won't want to miss this train.
Malts: Maris Otter Pale, Melanoidin, Crystal Rye, Black, Blackprinz
Hops: Nugget, Mosaic, Golding
OG: 1.048 TG: 1.010 ABV: 4.9% IBU: 57 SRM: 11
♦
About • Thirsty Thor's Belgian IPA
Thompson Brewery
Jen Kent
Inspired from the poem Hymiskvioa, where Thor must find a large enough cauldron to brew an ale for all the God's, we present you with a Belgian styled IPA. Based with a Belgian Ale yeast and speciality malts, hops to quench the palate of all, and pellet hops to add a strong muscle of flavor and aroma. Let's drink shall we?
Malts: FB pale, GWM Vienna and Flaked Barley
Hops: Nugget, Chinook and Cascade
OG: 1.062 TG: 1.012 ABV: 6.45% IBU: 85 SRM: 5
♦
About • Titan India Red Ale
Old St Francis School Brewery
Michael "Curly" White and Vance Wirtz
The Titan IRA is the OSF's concoction of a big and malty red ale with the hop emphasis typically seen in IPAs. The Titan has a deep red hue with semi-sweet malt flavors. Big hop tones of citrus and floral give this drink a little extra power. Bold in flavor and all around full bodied, this is not a beer to take lightly. A wonderful mixture of malt complexities bordering on sweet and epic hop flavor, bitterness and aroma! In addition to this all around great flavor we used our Firkin keg to condition some of this batch. The malt boldness is pronounced in this lower carbonated experience. Hop flavors dance on the tongue with all emphasis of Titan's yell!! Cheers!
Malts: Baird's Maris Otter Pale, GWM Pilsen, Thomas Fawcett & Sons Crystal Rye 70/80, Franco Belges Caramel Munich 40 and GWM Melanoidin
Hops: Galena, Simcoe, Cascade and Centennial Dry Hopped: Centennial
OG: 1.069 TG: 1.015 ABV: 7% IBU: 88 SRM: 11
Buzz Words: Hoppy, Bold and Titan-esque!!
♦

About Special Beer Tasting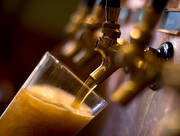 Join us once a month to sample a new, small-batch beer, handcrafted by one of our brewers.
Talk to the brewers, ask beery questions, enjoy happy hour pricing all night long on these limited-edition pints and more.
And when the beer is gone, it's gone.
Map & Directions
Tags for this Event:
Events > Beer, Wine, and Spirits
Property > Cornelius Pass Roadhouse
Related content (tags):