McMenamins
---

---
A Place for Family & Friends...
Snowblind Traveler
Kyle Oquin (of Portugal. The Man)
Crystal Hotel - Al's Den |
Wednesday, February 26, 2014
7 p.m. |
Free |
21 and over
About Snowblind Traveler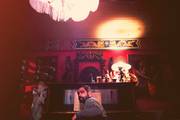 Snowblind Traveler, Long Island born songwriter Matt Dorrien, plays the song of the common man. His music is inspired by the rolling expanse of Middle America, the fog and lichen draped cathedral of Redwoods of the Northwest, the lulling whisper of a New England blizzard, the sorely disappointed, the dearly loved, the true and honest, those who are lost and forgotten, the living, dead, and eternal. For those who have ever slept under a blanket of Big Sur stars and drank whiskey until you forgot your own name: This is for you.
Map & Directions
Tags for this Event:
Music > Singer/Songwriter
Property > Crystal Hotel