"Waiting for the Light: Portland's SexTrafficking Crisis"
7 p.m. doors, 8 p.m. show |
Free |
21 and over
"Waiting for the Light: Portland's SexTrafficking Crisis"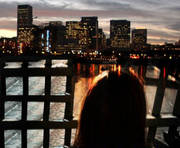 "Human trafficking is a form of modern-day slavery where people profit from the control and exploitation of others. As defined under U.S. federal law, victims of human trafficking include children involved in the sex trade, adults age 18 or over who are coerced or deceived into commercial sex acts, and anyone forced into different forms of 'labor or services,' such as domestic workers held in a home, or farm-workers forced to labor against their will. The factors that each of these situations have in common are elements of force, fraud, or coercion that are used to control people. Then, that control is tied to inducing someone into commercial sex acts, or labor or services. Numerous people in the field have summed up the concept of human trafficking as 'compelled service.' "
According to the U.S. Department of Health and Human Services, human trafficking is the second largest and fastest growing criminal industry in the world.
It is estimated that human trafficking is a $32 billion dollar a year industry, approximately $28 billion of this is generated from commercial sexual exploitation.
An estimated 12.3 million men, women and children are trafficked for commercial sex or forced labor around the world today.
The average age of entry into the commercial sex industry in the U.S. is between 12 and 14 years old.
Where is it happening? Right here in our backyard. The Portland metropolitan area has recently emerged as a main hub for sex trafficking. Previously, Portland ranked second for the greatest number of children found in forced prostitution among all U.S. cities participating in a nationwide federal law enforcement sting. Police report approximately five cases per week, half of which are juveniles. It is estimated that only a small percentage of cases are reported, while many remain undocumented.
Find out more about the JLP Stop Human Trafficking Committee's Events and resources here.
Junior League of Portland Website: