Come have fun in school... for once...
5736 N.E. 33rd Ave.
Portland, OR 97211
Local: (503) 249-3983
Elsewhere: (888) 249-3983
Contact Us
Jon Koonce Trio
Thursday, January 23, 2014
7 p.m. til 9 p.m. |
Free |
All ages welcome
About Jon Koonce Trio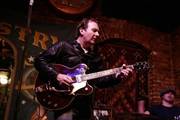 Jon Koonce is a Northwest original. Formerly of Johnny and the Distractions, the singer-songwriter, guitarist and local legend romps, stomps, twangs and rages through tales of love, lust, trailer parks, truck stops, demons and dogs. Koonce introduces lap steel, humor and blues harp into a vintage live and loud production. Twenty five years of tearin' it up in hootch parlors has left a mark of realism.
website:
Map & Directions
Tags for this Event:
Music:
Singer/Songwriter
Americana
Property > Kennedy School
Related content (tags):