Back to school in Bend!
700 N.W. Bond Street
Bend, OR 97703
Local: (541) 382-5174
Elsewhere: (877) 661-4228
Contact Us
Isle of The Unicorn Scotch Ale
O'Kanes Cask Series Release
Wednesday, April 30, 2014
5 p.m. 'til beer is gone |
Limited-edition beer tasting at happy hour pricing all night |
All ages welcome
About Isle of The Unicorn Scotch Ale
A magical creature runs about a green isle with whimsy and grace. This Scotch Ale was named after the Unicorn for its very own unique and graceful presence. A highly malt-based beer, the Unicorn starts out with a sweet ease and rounds with a full flavor. Slight caramel and hints of roasted malts dominate the quaff. A low hop flavor counters the malt but does not overcome the malt character of this beer. A full-bodied drink gives way to the magical finish that you wish could be an all-day experience. To make this drink even more special we have added a few gallons to our Firkin keg and let it finish up. This lower-carbonated version of the Isle of the Unicorn enhances the malt body and sweet finish of the beer. Come enjoy a pint while you can, because when its gone its gone!
Malts: Baird's Marris Otter Pale, Briess Victory, Franco Belges CaraMunich 40L, Baird's Crystal 70/80L Baird's Crystal 135/165L and Baird's Chocolate
Hops: Chinook and Sterling
OG: 1.072 TG: 1.016 ABV: 7.25% IBU: 23 SRM: 16
About O'Kanes Cask Series Release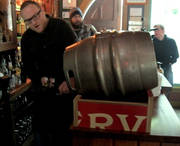 Join us once a month as Mike 'Curly' White unveils another of his firkin handcrafted ales.
Tags for this Event:
Events > Beer, Wine, and Spirits
Property > Old St. Francis School
Related content (tags):