Back to school in Bend!
700 N.W. Bond Street
Bend, OR 97703
Local: (541) 382-5174
Elsewhere: (877) 661-4228
Contact Us
Perle Jam Chocolate Maple Porter
O'Kanes Cask Series Release
5 p.m. 'til beer is gone |
Limited-edition beer tasting at happy hour pricing all night |
All ages welcome
About Perle Jam Chocolate Maple Porter
The OSF brewery has taken a Porter and jammed it up with chocolate and maple syrup. Using our "Perle of Wisdom" Porter we've concocted a sweet and flavorful ride of a porter you can really get into. Chocolate malt tones meld with the somewhat spicy and herbal Perle hops. Tune into this drink and enjoy the mixed tape of all the flavors to create one solid drink. On top of all that add the fact that we saved some for our Firkin keg and you can enjoy this bold tasting beer. A great and sweet treat for the summer jams your heart dances to.
Malts: GWM 2Row, GWM Crystal 120L, GWM Chocolate and Briess BlackPrinz
Hops: Perle
Special Ingredients: Cocoa and Maple Syrup
OG: 1.054 TG: 1.013 ABV: 5.2% IBU: 31 SRM: 30
Buzz Words: Malty, chocolatey and Music to your taste buds!
About O'Kanes Cask Series Release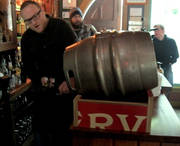 Join us once a month as Mike 'Curly' White unveils another of his firkin handcrafted ales.
Tags for this Event:
Events > Beer, Wine, and Spirits
Property > Old St. Francis School
Related content (tags):