Back to school in Bend!
700 N.W. Bond Street
Bend, OR 97703
Local: (541) 382-5174
Elsewhere: (877) 661-4228
Contact Us
Titan India Red Ale
Firkin Keg
O'Kanes Cask Series Release
Wednesday, August 27, 2014
5 p.m. 'til beer is gone |
Limited-edition beer tasting at happy hour pricing all night |
All ages welcome
About Titan India Red Ale
Old St Francis School Brewery
Michael "Curly" White and Vance Wirtz
The Titan IRA is the OSF's concoction of a big and malty red ale with the hop emphasis typically seen in IPAs. The Titan has a deep red hue with semi-sweet malt flavors. Big hop tones of citrus and floral give this drink a little extra power. Bold in flavor and all around full bodied, this is not a beer to take lightly. A wonderful mixture of malt complexities bordering on sweet and epic hop flavor, bitterness and aroma! In addition to this all around great flavor we used our Firkin keg to condition some of this batch. The malt boldness is pronounced in this lower carbonated experience. Hop flavors dance on the tongue with all emphasis of Titan's yell!! Cheers!
Malts: Baird's Maris Otter Pale, GWM Pilsen, Thomas Fawcett & Sons Crystal Rye 70/80, Franco Belges Caramel Munich 40 and GWM Melanoidin
Hops: Galena, Simcoe, Cascade and Centennial Dry Hopped: Centennial
OG: 1.069 TG: 1.015 ABV: 7% IBU: 88 SRM: 11
Buzz Words: Hoppy, Bold and Titan-esque!!
♦

About O'Kanes Cask Series Release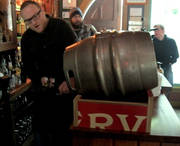 Join us once a month as Mike 'Curly' White unveils another of his firkin handcrafted ales.
Tags for this Event:
Events > Beer, Wine, and Spirits
Property > Old St. Francis School
Related content (tags):