Back to school in Bend!
700 N.W. Bond Street
Bend, OR 97703
Local: (541) 382-5174
Elsewhere: (877) 661-4228
Contact Us
Caped Crusader Robust Porter
O'Kanes Cask Series Release
Wednesday, October 29, 2014
5 p.m. 'til beer is gone |
Limited-edition beer tasting at happy hour pricing all night |
All ages welcome
About Caped Crusader Robust Porter
As darker nights descend onto our city, there is one beer that can save your palate from its thirst. Caped Crusader Robust Porter comes in with a BAM and helps your taste buds enjoy the longer nights. Bolder in flavor than your "regular guy" porter, this Robust Porter has all that you need. Deep malt characters with hints of coffee and chocolate. To put the finishing touch for this firkin we added a friendly helping of fresh cherries to give this dark beer a little crime to play with. Combine that with a nice mellow finish that gives you the signal that this quaff is something to savor for the night.
Malts: GWM Pale, GWM 2Row, GWM Crystal 60L, Bleges Caramel Munich, GWM Chocolate, Briess Blackprinz and Baird's Black
Hops: Nugget and Chinook
OG: 1.054 TG: 1.019 ABV: 4.5% IBU: 23 SRM: 35
Buzz Words: Full bodied, big flavor and bold!
About O'Kanes Cask Series Release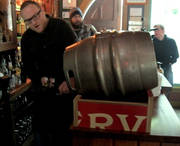 Join us once a month as Mike 'Curly' White unveils another of his firkin handcrafted ales.
Tags for this Event:
Events > Beer, Wine, and Spirits
Property > Old St. Francis School
Related content (tags):