Back to school in Bend!
700 N.W. Bond Street
Bend, OR 97701
Local: (541) 382-5174
Elsewhere: (877) 661-4228
info.osf@mcmenamins.com
Jack's Pumpkin Dunkelweizen
Firkin Keg
O'Kanes Cask Series Release
Wednesday, November 26, 2014
5 p.m. 'til beer is gone

|
Limited-edition beer tasting at happy hour pricing all night |
All ages welcome
About Jack's Pumpkin Dunkelweizen
Dunkelweizen is a dark wheat beer style popular in Germany for its nutritional value. Here at the Old St. Francis School Brewery we've decided to put a spin on this style with a plethora of roasted pumpkin added to the mash and kettle. A deep amber-orange hue give this special beer a wonderful look. Aroma of cinnamon and clove heighten this festive drink as well as easy malt chewiness that allows the beer to roll around your palette. We put a limited amount into our Firkin keg for a special kind of pouring experience. On top of that we added some molasses to the firkin to really enhance the drink with deeper flavor that melds well with the spice of pumpkin! So grab a pint of Jack's Pumpkin Dunkel and enjoy the coming of Autumn!!
Malts: Best Pale, Best Pilsen, Franco Belges Carmel Munich 40L & 60L, Baird's Crystal 135/165 and GWM Chocolate
Hops: Horizon and US Golding
Special Ingredients: Roasted fresh Pumpkin and molasses
Yeast: Bavarian Wheat (#3638 from Wyeast)
OG: 1.053 TG: 1.012 ABV: 5.28% IBU: 27 SRM: 14
Buzz Words: Chewy body, spicy sweet and all about Autumn!
About O'Kanes Cask Series Release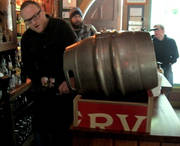 Join us once a month as Mike 'Curly' White unveils another of his firkin handcrafted ales.
Tags for this Event:
Events > Beer, Wine, and Spirits
Property > Old St. Francis School
Related content (tags):