A truly remarkable destination.
2126 S.W. Halsey St.
Troutdale, OR 97060
Local: (503) 669-8610
Elsewhere: (800) 669-8610
Contact Us
Great Northwest Music Tour
Wheeler Brothers
Graham Wilkinson
7 p.m. |
Free |
All ages welcome
Every month the Great Northwest Music Tour blazes a fresh musical trail, bringing an ever-changing lineup of talent to McMenamins Historic Properties. There is no admission charge to the festivities, and our unique hotels offer food, handcrafted beverages and a cozy place to bed down after the last note is played. Bring your friends and family and jam to a different artist every month.
About Wheeler Brothers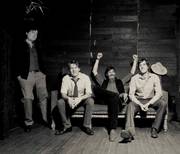 Making music continues to be a family affair for Wheeler Brothers. The Austin, TX quintet traces a personal lineage of rock, folk, roots, Americana, and blues on its second full-length album, Gold Boots Glitter [Bismeaux Records], cooking up an irresistible and inimitable gumbo of styles in the process. Marching forward from 2011′s critically acclaimed Portraits, the group-Nolan Wheeler [vocals, guitar], Patrick Wheeler [drums], Tyler Wheeler [bass], A.J. Molyneaux [guitar, lap steel, back up vocals], and Nathan Rigney [guitar, backup vocals]-opens the door even wider for everyone to join the family.
Gold Boots Glitter began to stomp to life while the band was on the road supporting Portraits. Holed up in a Wichita hotel for two blisteringly cold days in early 2012, the boys began sharing ideas for what would eventually become their next batch of tunes.
"That was when we really started working together on music," remembers Nolan. "It was freezing outside so we bunkered down and got to work on some songs. This album truly began out there on the road."
Returning to their ranch in Texas hill country to record, the collective vision started to take shape naturally. Located an hour outside of San Antonio, there isn't any cell phone reception on the secluded ranch, but there's lush wilderness to jog through and a lake perfect for a refreshing swim. The atmosphere definitely allowed the musicians respite from the hustle and bustle of touring. Simply put, trivial distractions didn't exist.
"There's just something about removing yourself from the city and getting out into the country," Nolan smiles. "Nobody's cell phone worked! We had to climb up a mountain to get service, but it was so beautiful. We were able to fully immerse ourselves in the process."
Local Austin singer-songwriter Drew Smith definitely encouraged that immersion as well. This time around, Wheeler Brothers enlisted Smith's production talents behind the board. Together, they further fine-tuned the band's signature sound as they cut everything live in unison.
"It was our first time collaborating with a producer," the singer goes on. "His background resembles ours. He understands mixing genres and implementing different elements into one thing. We have similar personalities, and we were all working towards the same thing."
That cohesion shimmers on "Sleep When I'm Dead." A finger-picked twang kicks off the song with Southern-fried flavor before it rolls into an anthemic and amplified refrain.
He reveals, "It's a rock 'n' roll song with a little Americana and rockabilly. Lyrically, it reflects on some of the late nights you spend in barrooms on tour. You're always up past two or three in the morning and driving to the next gig or hotel to go to sleep."
Elsewhere on the record, "Cigarette Smoke" billows with a calculated blues chug, while "You Got A Lot of Love" boasts a dreamy melody and Nolan's soulful delivery. "Straight & Steady" channels both bluegrass flare and raucous energy. Touring informed and inspired pensive and poetic "My Time." A soft strummed ukulele and slide guitar round out this vivid rumination on missing home.
"It's also about being on the road and away from somebody you love," Nolan continues. "You've got to understand one another in order for it to work if you're going to be away from somebody you really care about. You might miss home and your family, but touring and the people you meet out there are truly inspirational at the same time."
Wheeler Brothers have certainly spent their fair share of time on the road. Along the way, they've opened for The Avett Brothers and appeared at festivals including SXSW, Austin City Limits, and many others. For 2013, they've got Lollapalooza, Firefly, Newport Folk Festival, and more on the horizon.
They made their national television debut on Last Call with Carson Daily and received widespread acclaim from tastemakers including Rolling Stone, Paste Magazine, AOL Spinner, The Washington Post, Elmore Magazine, and The Austin Chronicle to name a few. In addition, with "Portraits," they swept the "Austin Music Awards" at SXSW 2012, winning "Best New Band", "Best Roots Rock Band", Nolan Wheeler for "Best Acoustic Guitar", Tyler Wheeler for "Best Bass", and A.J. Molyneaux for "Best Miscellaneous Instrument" for lap steel. Meanwhile, their label, Bismeaux Records was named "Best Local Label".
At the end of the day, Wheeler Brothers are welcoming everyone to put on Gold Boots Glitter and become a part of their musical dynasty. "We consider the listeners our extended family," Nolan concludes. "We want people to feel like they're a part of our music. To have their support is the most powerful thing in the world. They've brought us here, and they'll be a part of this family forever." - Rick Florino, February 2013
Website:
About Graham Wilkinson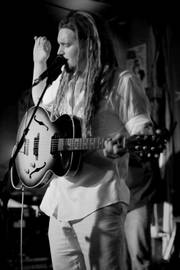 After becoming a regular all over the Austin scene and venues across the country from 2006-2011, Graham took somewhat of a hiatus in touring the past few years to focus on raising his now three year old twin daughters. Though it might seem that it was time off, Wilkinson never stopped writing, painting, recording and playing shows. With that being said, 2014 holds many exciting things from rock n' roll side projects like Mother Teresa to his regular Wednesday song-swap with fellow Austin-ite, Shawn Nelson, calling themselves "2 fer 1″. He will also re-release a few records never available before directly to his website as well as many new recordings in a number of various outfits, forms and impressions. Also, keep a look a look out for his growing business Until Life Makes Sense inspired by his song "Let It Go" with the line "laugh until life makes sense."
Website:




Myspace:




Facebook:




YouTube:
Map & Directions
Tags for this Event:
Music > Rock
Property > Edgefield
Related content (tags):