& Gearhart Hotel
1157 N. Marion Ave.
P.O. Box 2299
Gearhart, OR 97138
Pub: (503) 717-8150
Contact Us
Great Northwest Music Tour
The Howlin' Brothers
7 pm |
Free |
All ages welcome
Every month the Great Northwest Music Tour blazes a fresh musical trail, bringing an ever-changing lineup of talent to McMenamins Historic Properties. There is no admission charge to the festivities, and our unique hotels offer food, handcrafted beverages and a cozy place to bed down after the last note is played. Bring your friends and family and jam to a different artist every month.
About The Howlin' Brothers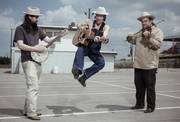 The Howlin' Brothers are a three-piece string band that brings heart and passion into every performance. Their upbeat shows are heavy with original and traditional music, featuring the sounds of slide banjo, harmonica and old-time fiddle. Their latest album "HOWL" produced by Brendan Benson will be available March 5th, on Benson's label Readymade Records.
Ben Plasse - upright bass, banjo, vocals
Ian Craft - fiddle, banjo, vocals
Jared Green - guitar, harmonica, vocals
"They are authentic and the real deal through and through." - Brendan Benson
"They juxtapose many forms of traditional music together: country blues, bluegrass, folk, gospel, to create a very fresh and unique sound that is completely their own." - Bill Hurley/The Alternate Root TV
"They are content to not worry with the current contemporary music scene and just build their own." - Warren Haynes
"Tennessee trio The Howlin' Brothers offer a distinctly bluegrass take on the blues, adding upright bass, fiddle and banjo to covers of greats such as Muddy Waters as well as pumping out original foot stompers". - Time Out Chicago
Website:
Map & Directions
Tags for this Event:
Music > Americana
Property > Gearhart Hotel & Sand Trap Pub
Related content (tags):