Back to school in Bend!
700 N.W. Bond Street
Bend, OR 97703
Local: (541) 382-5174
Elsewhere: (877) 661-4228
Contact Us
Franchot Tone
Monday, December 30, 2013
7 p.m. til 10 p.m. |
Free |
All ages welcome
About Franchot Tone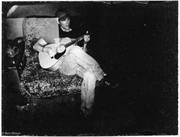 Folks aren't used to seeing Franchot Tone out front of a musical project. The Bend resident is best known as the co-founder of the groovy roots-reggae outfit Culver City Dub Collective, and locally, he made a splash a couple years ago by producing singer-songwriter Reed Thomas Lawrence's self-titled album, which helped propel Lawrence to the point he's at now: moving to L.A. and rising through the music industry.
Over the past several months, though, Tone has been holed up in his studio at Rage Productions, slowly but surely piecing together his first solo project. Last I heard, he still had a ways to go before he'll be releasing anything, but ... he shipped over a sneak peek at his first completed track, which sounds pretty much like what we all know Tone can do well: sun-baked, easygoing, reggae-flavored pop-rock. -Ben Salmon, Bend Bulletin
Map & Directions
Tags for this Event:
Property > Old St. Francis School
Related content (tags):