Marca Luna
The Hey Listen
Steph Infection and The Heebie Jeebies
#45 of the Crystal Ballroom's "100 Nights"
Wednesday, November 27, 2013
7 p.m. doors, 8 p.m. show |
$5 at the door |
21 and over
About Marca Luna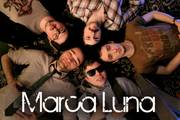 Some say that certain things in this world were not born into existence as most things are. They have just always been so. Forces that move us, drive us, and leave us yearning for more. Yet there is one force that demands to be reckoned with, to stand out from the rest. That force is Marca Luna.
Singers Devan Waterhouse and Marcus Glaze soulfully tell their stories with captivating vocal harmonies and catchy hooks, while the melodic undertow that is Kyle Woody's guitar playing glues the band together with his weightless technicality. Drummer Aaron DeRosso and bassist Chris Ficht drive the sound with perfect synchronicity and style with heavy grooves, swagger and snappy beats. Marca Luna doesn't just believe in performing but entertaining! With energy, antics, and a psychedelic, blinding light show production. It's not just a show, but an experience you can't miss!
Myspace Page:




Facebook Page:
About Steph Infection and The Heebie Jeebies
Steph Infection and The Heebie Jeebie's is a ragtag duo consisting of Kelly "The Crusher" Clifton and Stephanie "Rock 'Em and Sock 'Em" Scelza. Bluesy, raunchy, soulful, saucy, and funky as two escaped monkeys. And that's all you need to know about that.
About #45 of the Crystal Ballroom's "100 Nights"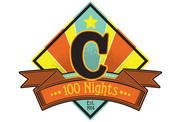 Portland's Crystal Ballroom, as an ongoing entertainment staple for the city since 1914, celebrates its 100th birthday with a 100-day-long party! From October 14, 2013 to its actual centennial-mark on January 21, 2014, daily events will tumble forth from the historic Crystal Ballroom and its second-floor space Lola's Room, with an occasional spotlight pointed at the affable setting of Ringlers Pub.
Events will feature a mix of current national acts, the return of longtime Portland favorites, showcases of up-and-comers, and themed events inspired by key eras of the Crystal past. While the series will end with a bang - a performance by the Decemberists' Colin Meloy on January 21 - the entire run of shows will be stacked with stellar talent. Additional events will pay tribute to the Crystal's amazing history, with ballroom dance extravaganzas, old-timey/Americana dances, a gypsy-themed event, soul/funk shows and psychedelic jams.
Map & Directions
Tags for this Event:
Music:
Alternative/Indie
Rock
Property > Crystal Ballroom Property
Related content (tags):