at Crystal Hotel
303 S.W. 12th Ave.
Portland, OR 97205
Local: (503) 972-2670
Elsewhere: (855) 205-3930
Contact Us
Scott Fisher w/special guests Moody Little Sister
w/special appearance by Jenn Dashney
Sunday, December 22, 2013
7 p.m. |
Free |
21 and over
About Scott Fisher w/special guests Moody Little Sister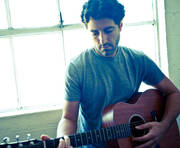 LA-based artist/producer Scott Fisher returns home to celebrate the holidays with friends and collaborators who have helped and inspired him along his musical path. The multi-faceted Fisher has much to celebrate - his recent modern pop albums continue to see extensive TV and film placement - including "Baby Blue Eyes" on the soundtrack of the upcoming Dumb and Dumber Too (starring Jim Carey, Jeff Daniels and Jennifer Lawrence). He also launched a boutique label, Mondial Music Group, with his partner Jesus Chuy Flores (who won his third Latin Grammy this November). Their first full length release is currently charting on Triple A radio and features many of his Al's Den guests.
Known for his piano-based performance, Fisher will make his official debut on guitar during his solo set. After the featured set from his nightly guest artist, Scott will close the night on Fender Rhodes accompanied by The Convergence - a cadre of musical collaborators from past projects. Fisher remarks: "It will be fun playing live again in the McMenamin's, bringing all these artists and friends together AND being back home in Portland for the holidays."
7 PM / Scott Fisher solo with guest Jenn Dashney
Scott Fisher on his solo set:
Opening the show solo is a rare opportunity to try out some new songs as well as showcase those that have been featured in film and TV over the last few years. I will also debut my guitar playing before a live audience!! Being left handed and having always identified as a piano player, it wasn't until recently that I started learning the guitar - first as a tool in production and more recently as a writer. Eight months ago, I bought a left handed guitar and fell in love with it. It has been a very intuitive experience...and a sort of return to innocence musically.
This residency is all about playing with friends on the musical path, tonight I will be joined by my old friend Jenn Dashney during my solo set and back her on a few songs.
Jenn Dashney
Scott Fisher on Jenn:
Jenn is an intuitive singer with a lovely voice who has been my musical compatriot since the early days when she fronted the RnB powerhouse Grooveyard and I played in the groove-jam band Soular.
8 PM / Moody Little Sister
Scott Fisher on Rob Stroup and Naomi Hooley of Moody Little Sister:
Rob is a frequent collaborator - from engineering on my album "Step Into the Future" (one of the first projects to come from his 8 Ball Studio) to working with artists on my Mondial Music Group label. Rob is a super talented engineer, a fantastic musician, and a wonderful songwriter and singer. I've listened to Naomi's "It Was a Great October" - recorded and produced by Rob. She has a beautiful voice and a seventies aesthetic I like a lot. It's a logical step for the two of them to collaborate and I am eager to witness the result.
9 PM / Scott Fisher & The Convergence
Scott Fisher on The Convergence:
The Convergence brings together certain featured touring companions that have been part of my live performance over the years - from playing at the Olympics in Salt Lake City to my recent McMenamin's residency for the release of Sunnyslope Ave. This is a convergence of musical friends who share the art of listening and embrace an authentic vintage aesthetic. We'll lean on my groove oriented songs so we can improvise a little and interact musically. We'll also showcase my songs that have been featured in film and TV and riff on instrumentals. We may invite some special guests to sit in and join the fun.
Jeff Anthony - drums
Scott Fisher on Jeff:
Honestly, Jeff is a top tier musician and performer, having played with artists like Sheryl Crow and Chuck Prophet. Jeff has an evolved philosophy of music that is feel and groove based: always in service of the song and never about ego. Jeff understands that space and silence in a song are just as potent as the notes.
Bob Dunham - guitar
Scott Fisher on Bob:
An old soul, Bob spends all his time perfecting his vintage guitar tone and is a true lover of old school, organic sounds. Bob has been my guitar and musical collaborator since the beginning of my performing years. He puts the music before ego; always making the project the most important thing.
Mont Chris Hubbard - keys
Scott Fisher on Chris
Chris is a consummate keyboard pro. Technically proficient, with perfect pitch, Chris is a versatile player - he can play piano or synth and adds spot on harmony vocals. I can step out from behind the piano - leaving the keyboards in good hands!
Paul Brainard - guitar
Scott Fisher on Paul
Many people think of Paul as a pedal steel player and don't know what a tremendous guitar player he has become. For 70's rock guitar stuff - he's the man! I've used him on nearly every song on Ben Fuller's album (currently charting at Triple A radio). Paul's the real deal: He's got Mojo you can't deny.
Website:
Map & Directions
Tags for this Event:
Property > Crystal Hotel
Related content (tags):