Back to school in Bend!
700 N.W. Bond Street
Bend, OR 97703
Local: (541) 382-5174
Elsewhere: (877) 661-4228
Contact Us
¡Chiringa!
Wednesday, November 20, 2013
7pm til 10pm |
Free |
All ages welcome
About ¡Chiringa!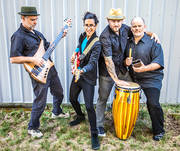 In early 2012, Bend-based singer-songwriter Shireen Amini was asked to put together an all-Latin band for a Cinco de Mayo festival in Central Oregon. She was known mostly for her American soul-based original music but often included a few songs in Spanish her set. Little did she know that this one-time project would end up becoming a full-on gigging band. ¡Chiringa! splashed onto the scene with its fresh, rockified Latin grooves coupled with beautifully passionate vocal lines. Both the seasoned dancer as well as the regular booty shaker have found deep gratification at a ¡Chiringa! show, where everyone is invited to receive the infectiousness of Latin rhythms in their own way.
Chiringa, (pronounced Chee-reen-gah), means "kite" in Spanish, or Puerto Rican-style Spanish to be more precise. Shireen being of both Puerto Rican and Iranian descent was nicknamed "Chiringa" by Puerto Rican family members who had a hard time pronouncing the "sh" sound in her Iranian name. ¡Chiringa!, the band, brings forth this rich musical heritage via the songs Shireen grew up loving, her musical training in Afro-Latin styles, and the diverse musical backgrounds of her 3 affectionately-regarded "gringo" band members, who happen to have incredible flavor. The band's repertoire covers a wide range of pop stars and legends in the Latin music world like Santana, Celia Cruz, Selena, Juanes, Shakira, Maná, Ozomatli, and Buena Vista Social Club. It also spans an incredibly wide variety of Latin genres including salsa, cumbia, cha cha cha, bachata, samba, merengue, tango, Latin rock and more. The band features Shireen Amini on guitar and lead vocals, Johnny Riordan on congas and timbales, Tom Freedman on bass and trumpet, and Matthew Williams on drum kit. Everyone gets down on percussion. ¡Chiringa! always invites a big dance party and audience participation, pulling everyone into the music using their voices and bodies and making it anywhere from a slow and sexy to a wildly ecstatic display on the dance floor.
Shireen, Johnny, Tom, and Matthew focus their heart's intent on bringing to life the diversity and subtleties of Latin music so that it can be known in a way that truly honors its roots and its reputation for spreading joy to all who will receive it. ¡Chiringa! invites you, people of all different backgrounds, to just get down and celebrate life together...Latino-style.
Map & Directions
Tags for this Event:
Property > Old St. Francis School
Related content (tags):