In the heart of Oregon's wine country...
310 N.E. Evans Street
McMinnville, OR 97128
Local: (503) 472-8427
Elsewhere: (888) 472-8427
Contact Us
Lyrica
Saturday, November 16, 2013
7pm til 10pm |
Free |
All ages welcome
About Lyrica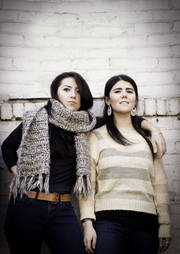 If the term 'easy listening' conjures up sappy elevator music, then think again.
Sister duo, Lyrica, has been easy on the ears and drawing a crowd for well over 7 years.
Take two acoustic guitars, accompanied by two melodic voices; one bright and vibrant, one smokey and deep. The result is complex yet straightforward.
As far as their song-writing style, the lyrics feel as though they were written about you, for you, your own personal songstresses. Crystal Lariza, 23, writes like a woman who has lived a lot of life, when in reality, she admits her songs are more like premonitions; things she has yet to experience. Her sister Angela, at 22, could pass as a twin, anchoring the duo with solid vocal presence.
Playing everywhere from tiny art galleries to the main stage at the Roseland Theatre, Lyrica delivers old soul songwriting with vibrant harmonies. With influences from Creedence Clearwater Revival to Norah Jones, the content of their songs knows no boundaries. Crystal- the writer and Nanny-the right hand man, team up to produce some melodic one-liners that are sure to get stuck in your head.
ReverbNation:
Map & Directions
Tags for this Event:
Property > Hotel Oregon
Related content (tags):