"Americana Round-Up"
Johnny Payola's Hayride
#44 of the Crystal Ballroom's "100 Nights"
Tuesday, November 26, 2013
7 p.m. doors, 8 p.m. show |
Free |
All ages welcome
About "Americana Round-Up"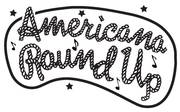 It's time for some free family fun, old-time style. Some of Portland's finest Americana talent (and there's a lot of talent 'round here) will be dropping by on these Tuesday evenings, playing their hearts out so you and yours can put Lola's floating floor to the test. Enjoy drink specials and play yourself some corn hole!
About Johnny Payola's Hayride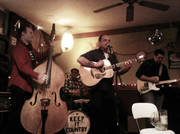 Hailing originally from the backwoods of Missouri, the Payolaman had already made a name for himself drumming in various rockabilly, country, and punk rock bands stretching from Tennessee to California. Now firmly planted in the Northwest, Johnny is fronting his own honky tonk band in Portland, OR. backed up by some of the finest musicians in town.
Johnny's set list consists of many original tunes, as well as classic country and oldies standards. His music is reminiscent of artists such as Merle Haggard, Johnny Cash, and Hank Williams, but also infused with the punk rock angst of such bands as Social Distortion, and the Misfits. Bring your dancin' shoes and expect to have a good ole time when you catch Johnny and the gang playing out in the honky tonks and dancehalls around Portland and the Northwest.
About #44 of the Crystal Ballroom's "100 Nights"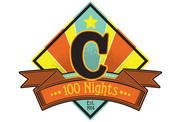 Portland's Crystal Ballroom, as an ongoing entertainment staple for the city since 1914, celebrates its 100th birthday with a 100-day-long party! From October 14, 2013 to its actual centennial-mark on January 21, 2014, daily events will tumble forth from the historic Crystal Ballroom and its second-floor space Lola's Room, with an occasional spotlight pointed at the affable setting of Ringlers Pub.
Events will feature a mix of current national acts, the return of longtime Portland favorites, showcases of up-and-comers, and themed events inspired by key eras of the Crystal past. While the series will end with a bang - a performance by the Decemberists' Colin Meloy on January 21 - the entire run of shows will be stacked with stellar talent. Additional events will pay tribute to the Crystal's amazing history, with ballroom dance extravaganzas, old-timey/Americana dances, a gypsy-themed event, soul/funk shows and psychedelic jams.
Map & Directions
Tags for this Event:
Music > Americana
Property > Crystal Ballroom Property
Related content (tags):