Eat, Drink, Feed Your Curiosity
1624 N.W. Glisan
Portland, OR 97209
(503) 223-4527
mission@mcmenamins.com
"The Assembly" hosts
Mission 26th Anniversary Party
"Whiskey Night"
The Angels' Share (NR)
Whiskey tastings with McMenamins Distiller
--
Monday, September 23, 2013
6 p.m. doors, 7 p.m. show |
$5 per person |
21 and over
About Mission 26th Anniversary Party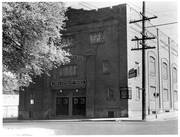 Film screenings with related music, performances and tastings that bring cinema to life.
Schedule
All events 21 & over
unless noted
Saturday, September 21 · "Summer is Dead"
3 p.m. – Harold & Maude (R) · Minors with parent or guardian
8 p.m. – Music from Wooden Indian Burial Ground
Sunday, September 22 · "Family Movies"
4 p.m. – Casablanca (NR)
· Minors with parent or guardian
6 p.m. – Willamette Radio Workshop live performance
· Minors with parent or guardian
7:30 p.m. – Casablanca (NR)
Monday, September 23 · "Whiskey Night"
7 p.m. – Angels Share (NR)
Whiskey tastings with McMenamins distiller
Tuesday, September 24 · "Beer Night"
7 p.m. – Drinking Buddies (R)
Wednesday, September 25 · "Wine Night"
7 p.m. – Red Obsession (NR)
Thursday, September 26 · "Eat Drink Film"
6:30 p.m. – Dinner and a showing of Big Night (R)
About The Angels' Share (NR)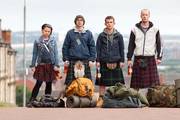 This bitter sweet comedy follows protagonist Robbie as he sneaks into the maternity hospital to visit his young girlfriend Leonie and hold his newborn son Luke for the first time. Overwhelmed by the moment, he swears that Luke will not have the same tragic life he has had. Escaping a prison sentence by the skin of his teeth, he's given one last chance......While serving a community service order, he meets Rhino, Albert and Mo who, like him, find it impossible to find work because of their criminal records. Little did Robbie imagine how turning to drink might change their lives - not cheap fortified wine, but the best malt whiskies in the world. Will it be 'slopping out' for the next twenty years, or a new future with 'Uisge Beatha' the 'Water of Life?' Only the angels know....
About --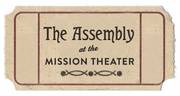 ... The Assembly
The Mission Theater – the place that first put beers into the hands of Portland theater-goers so many years ago – has proudly introduced a new line of programming, dubbed "The Assembly."
While retaining its relaxed environment, comfortable seating and matchless sightlines, the Mission is dropping its second-run movies, stepping up its food and beverage offerings, and – best of all – evolving the theater's programming dramatically. The core of The Assembly features film screenings with related lectures, interviews, and performances that bring cinema to life. And fans of Mortified, Miz Kitty and live music will be happy to learn that many of the live performances that we've all loved over the years will continue. After all, The Assembly's primary mission – engaging audiences with events that are both enriching and entertaining – has few boundaries!
So get your curiosity on and gather with us at The Assembly. There's a lot of world out there.
Map & Directions
Tags for this Event:
Events > History
Property > Mission Theater
Related content (tags):