"The Assembly" hosts
Mission 26th Anniversary Party
"Summer is Dead"
Live music by
Wooden Indian Burial Ground
Genders
--
Saturday, September 21, 2013
7 p.m. doors, 8 p.m. show |
$8 advance, $10 day of show |
21 and over
Buy Tickets
Tickets on sale now!
About Mission 26th Anniversary Party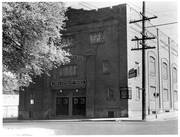 Film screenings with related music, performances and tastings that bring cinema to life.
Schedule
All events 21 & over
unless noted
Saturday, September 21 · "Summer is Dead"
3 p.m. – Harold & Maude (R) · Minors with parent or guardian
8 p.m. – Music from Wooden Indian Burial Ground
Sunday, September 22 · "Family Movies"
4 p.m. – Casablanca (NR)
· Minors with parent or guardian
6 p.m. – Willamette Radio Workshop live performance
· Minors with parent or guardian
7:30 p.m. – Casablanca (NR)
Monday, September 23 · "Whiskey Night"
7 p.m. – Angels Share (NR)
Whiskey tastings with McMenamins distiller
Tuesday, September 24 · "Beer Night"
7 p.m. – Drinking Buddies (R)
Wednesday, September 25 · "Wine Night"
7 p.m. – Red Obsession (NR)
Thursday, September 26 · "Eat Drink Film"
6:30 p.m. – Dinner and a showing of Big Night (R)
About Wooden Indian Burial Ground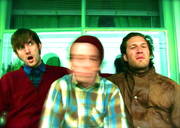 "Wooden Indian Burial Ground is a guitar-bass-drums band from Portland, Ore., that's particularly molten. As the rhythm section bears down splashily on whatever riff drives the song, Mr. Fowler pushes surf-guitar techniques - glissando, string-bending, tremolo strumming - toward their noisy, textural extremes, or he makes swoopy sounds from a low-tech analogue synthesizer that a friend built inside a beat-up bit of luggage from a thrift shop...the point of the songs is the way they ride their rudimentary riffs toward euphoric dementia." - The New York Times (Jon Parales)
"Wooden Indian Burial Ground were the rare breed of psychedelic garage music that rises above the mediocrity of most bands making this sort of music these days and gets me remembering why I've loved this kind of music for so long." - NPR, All Songs Considered (Bob Boilen)
About Genders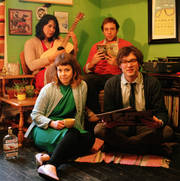 Genders is a four-piece casual rock and roll band from Portland, Oregon. Finding a balance between shredding your clothes off and weeping softly in the corner, Genders' performance will move you... be it physically or emotionally. Want your face melted? Want your toes tapping? Want to hold hands with your sweetie? Come to a Genders show and have the night of your life.
Voted one of Portland's Best New Bands of 2013 by Willamette Week, their current self-titled EP has been topping out the airplay charts at OPB Music. After a busy summer of festivals, Genders continues to work furiously on their full-length album, due in the fall of 2013... when they will embark on their first national tour, opening many dates for rock 'n' roll heroes, Built to Spill.
Genders is comprised of Stephen Leisy on guitar, Matt Hall on bass, Katherine Paul on drums, and Maggie Morris on guitar and vocals.
About --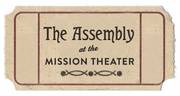 ... The Assembly
The Mission Theater – the place that first put beers into the hands of Portland theater-goers so many years ago – has proudly introduced a new line of programming, dubbed "The Assembly."
While retaining its relaxed environment, comfortable seating and matchless sightlines, the Mission is dropping its second-run movies, stepping up its food and beverage offerings, and – best of all – evolving the theater's programming dramatically. The core of The Assembly features film screenings with related lectures, interviews, and performances that bring cinema to life. And fans of Mortified, Miz Kitty and live music will be happy to learn that many of the live performances that we've all loved over the years will continue. After all, The Assembly's primary mission – engaging audiences with events that are both enriching and entertaining – has few boundaries!
So get your curiosity on and gather with us at The Assembly. There's a lot of world out there.
Map & Directions
Tags for this Event:
Events > History
Music > Alternative/Indie
Property > Mission Theater
Related content (tags):