Back to school in Bend!
700 N.W. Bond Street
Bend, OR 97703
Local: (541) 382-5174
Elsewhere: (877) 661-4228
Contact Us
Hilst & Coffey
Thursday, October 3, 2013
7pm til 10pm |
Free |
All ages welcome
About Hilst & Coffey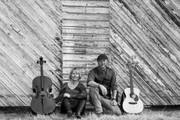 Pacific Northwest acoustic duo Hilst & Coffey combine unique rhythmic chemistry with original music, delivering a tantalizingly distinct blend of genre-crossing titles. Through her cello, his guitar, and their rich vocals, the duo invokes acoustic Americana with hints of Celtic influence and not a few surprises. Accomplished musicians and songwriters, Hilst & Coffey take listeners on an extraordinary musical journey from a mix of haunting instrumentals to foot-stomping rhythms.
"It Goes" by Hilst & Coffey from "The Lonely Grange Sessions" from Hilst & Coffey on Vimeo.
website:
Map & Directions
Tags for this Event:
Music:
Americana
World Music
Property > Old St. Francis School
Related content (tags):