Saloon & Hotel
836 N. Russell St.
Portland, OR 97227
Saloon: (503) 282-6810
Hotel: (503) 335-8900
Contact Us
Jack Ruby Presents
Sundries
Fault Lines
Saturday, September 28, 2013
9:30 p.m. |
$8 in advance, $8 day of show |
21 and over
About Jack Ruby Presents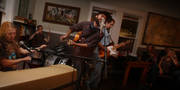 Chris Hernandez, Melissa Davaz, Aaron Owens, and Jesse Hughey love music. Well read backwoods children of the '90s, they come from operatic punk and indie jazz schooling citing influences as far reaching as Charles Mingus, Connor Oberst, Point Juncture, WA, and Uncle Tupelo. Their music hints at years spent inside of headphones and in the back corner of record stores; their outfits speak of romantic dreams of crosscut saws.
Hailing from the northwest coast from Alaska, Oregon and Montana, the band formed in the Willamette Valley in 2007. In 2008 they recorded a 5 track acoustic EP which was packaged in duct tape, hello my name is stickers, and cereal box sleeves.
In January of 2010, after a few years of refinement and shows everywhere between San Francisco and Southeast Alaska, the band moved into the studio to record a full-length album showcasing their developed sound. The resulting album, entitled "Over Wires and White Plains" was released in Portland on May 15th.
...and here's some favorite press:
"A sound that hearkens to the early 20th century of an agrarian way of life in tension with an increasingly rapid pace. Amid the reminiscence of simpler times come the dark strains of a socio/political shift in our collective consciousness. A time of rampant injustice in rural areas where life is supposed to be sweeter. Jack Ruby Presents brings those elements together to form a complex and passionate commentary of the way things were, in some ways still are, and indeed how some things never change. It's pretty, dark... human in its defiant joy." - Paul Huppert
website:
Map & Directions
Tags for this Event:
Music > Americana
Property > White Eagle
Related content (tags):