at Crystal Hotel
303 S.W. 12th Ave.
Portland, OR 97205
Local: (503) 972-2670
Elsewhere: (855) 205-3930
Contact Us
Star Anna
Saturday, October 5, 2013
7 p.m. |
Free |
21 and over
About Star Anna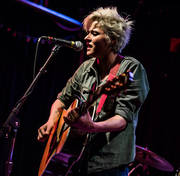 Star Anna is a singer-songwriter from a dusty old wind-swept rodeo town in the middle of Washington State called Ellensburg. It was there that Star first began playing music, first as a drummer in a punk rock band, and where she later found her true calling with her voice, words, and her acoustic guitar. Star writes music that comes from the heart, from hard and sometimes dark places, that grabs hold and burns like a snake bite. Once she established herself with her band, the group brought forward a truly unique brand of country-tinged lonesome rock and roll.
Star and her phenomenal band, The Laughing Dogs (Justin Davis, guitar; Frank Johnson, bass; Travis Yost, drums), have been traveling hard and spreading joy to crowds all over the western United States for a little over three years now. They are regularly referred to with some variation of The Next Big Thing (explicitly on the cover of the Jan 2009 issue of Seattle Sound Magazine) and are eager to let each new audience learn why. The shows are intense and powerful, the songs deep and true, the band is hot and Star?s voice will break your heart.
Star Anna and the Laughing Dogs released their most recent album ?The Only Thing That Matters? in April, 2009 and have since garnered international critical acclaim. As KEXP programming director Don Yeats writes: "Ellensburg?s Star Anna debuted last year with Crooked Path, a promising album of rootsy alt-country, and while the roots influence is still there on her 2nd album, Star and her band have cranked up the electricity, giving her emotionally scarred songs an additional rock ?n? roll punch. Her throaty, aching vocals sound better than ever, and the band earns their co-billing with tight, tough-sounding accompaniment. Crooked Path was a great beginning, but this one packs a mightier wallop."
website:
Map & Directions
Tags for this Event:
Music:
Americana
Rock
Property > Crystal Hotel
Related content (tags):