at Crystal Hotel
303 S.W. 12th Ave.
Portland, OR 97205
Local: (503) 972-2670
Elsewhere: (855) 205-3930
Contact Us
The Heligoats
w/guest Anna Arvan
Thursday, September 5, 2013
7 p.m. |
Free |
21 and over
About The Heligoats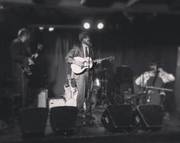 If there is one thing that is constantly heard when discussing sometimes Bellingham musician Chris Otepka's music, it is the word "odd."
Whether it is The Heligoats moniker he performs and records under, or his stream-of-consciousness lyrical style, or the whimsical song structures or even the stories he tells in between songs; he is definitely an oddball or some sort- in the best definition of the word, of course.
"I want to hear, write and play music I have not heard," Otepka said. "So, I especially do not mind for it to be considered 'odd.'"
Otepka started the Heligoats in 1999 while he was also a member of Chicago-based band Troubled Hubble, who gained a cult following through constant touring.
When reviewing the Heligoat's website and Facebook pages, one would assume that his life is just one tour after another, with intermittent breaks to record albums that have been praised by dozens of publications and media outlets including National Public Radio (NPR), PunkNews.org and many others.
Perhaps the most interesting and unique aspect of Otepka's music is his lyrics and melodies. To put it simply, they are not what you would be used to hearing on the radio (well, unless you were listening to NPR, of course.) The lyrics range from surrealistic streams that Otepka himself seems to barely be able to keep up with sometimes to whimsical, heartfelt - and sometimes heart breaking - tales of honesty, triumph and failure.
When asked about his attention to lyrics in his music, Otepka simply said, "I secretly have always wanted to be a rapper."
Currently, Otepka is taking a short break from his grueling tour schedule to focus on the release of his latest album, Back to the Ache, coming March 19, he said. The record is his first new full-length release since Goodness Gracious" in 2010. The new album features 12 tracks, recorded in studios in Portland, OR and Chicago, Ill. The album will be released by Portland-based record label Greyday Records.
While Otepka usually plays live with just an acoustic guitar, Back to the Ache will feature a full backing band. The band consists of regular collaborators that he has recorded with and played live with over the years. The band on the recording is comprised of Steven Mitchell on guitar and piano, Nick Lombardo on synth and piano, David James on bass and Nate Lanthrum on drums.
The addition on Lanthrum to the band is exciting to any fan of Otepka's former band Troubled Hubble, as Lanthrum is one of Otepka's original collaborators with The Heligoats, he said.
Occasionally, he does play live with backing musicians, including stalwarts of the Bellingham music scene, like Anna Arvan (I Love You Avalanche, Go Slowpoke, Biagio & The Argonauts,) and Bruce Shaw (Sweetheart of the Rodeo, The Librarians, etc.).
Otepka said the Heligoats are going to tour throughout the bulk of the rest of the year in support of Back to the Ache, and will set out on the road in March. The tour will begin in the Midwest and then the band will travel through the heart of the country on the way to the Treefort Music Fest in Boise, ID from March 21-24, and then onto Seattle and the Pacific Northwest. Otepka said the full band will tour for the beginning, but he suspects the band will shrink in size as they continue on the road. The band will also tour with Clem Snide throughout the country and also overseas.
"I have not had an address since December of 2011 and I don't foresee that changing this year," Otepka said via e-mail. "I tried to stop in 2007, and it did not work. There are still places to go! There are still places to return to. I do not know how not to. Truly. I do not know how to stop. Help."
Pleads for help aside, Otepka and the Heligoats will be making their way to Bellingham eventually. He has a gig scheduled for March 2 at Boundary Bay with Robert Sarazin Blake, and will probably perform at the Subdued Stringband Jamboree this year.
"I truly believe in the power of the communal experience at show, the information and energy that can be shared, exchanged and expressed," Otepka said about the touring and live music experience. "We can figure things out when a group of brains comes together. At a live show, it is unlike any other way to relay or experience music and sound and story and performance, on either side of the microphone or stage, so there is a certain pull to that experience and to touring."
So, either way, it will not be too long before this town is once again graced with the presence of, perhaps, Bellingham's most imaginative folk artist ever, The Heligoats.
Heligoats:
About w/guest Anna Arvan
Chris on Anna: "I played my first show as a Washington resident with Anna Arvan. We shared the stage at the 9th Annual Subdued Stringband Jamboree in Deming, WA, Aug 9th, 2009, It was part of a songwriter's circle, on the big stage. I don't remember any of what she or I played. I really don't remember anything about Anna before this past May. But I do know she has a great band, great songs and has been writing, releasing and collaborating for the past ten years. We've since gotten a little closer, as Anna, her cello and peerless vocal harmonies have joined the Heligoats on tour this past year, and will again during the residency this week! It also seems she and her band, I Love You Avalanche, from Bellingham, WA, have released a new record this year on clear, red, vinyl called, Fiction. Thursday will be a sweet one."
Map & Directions
Tags for this Event:
Property > Crystal Hotel
Related content (tags):