"The Assembly" hosts
2013 Summer Documentary Series, presented by NW Doc and POWFest
"Homegrown Docfest"
--
7 p.m. |
$7 at the door |
21 and over
About 2013 Summer Documentary Series, presented by NW Doc and POWFest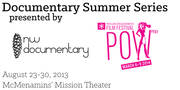 POWFest and NW Documentary have joined forces for a week long documentary series! Kicking off on Friday August 23 with the summer Homegrown Doc Festival, the week will include family programming, fresh documentaries, local premieres, and a collection of POWFest favorites from the past six years. The series will conclude on Friday August 30th with a special engagement with award-winning documentary director Ondi Timoner. Ms. Timoner will be on hand to discuss her career in film, share clips of her past and current work and engage screen the documentaries DIG! and We Live in Public.
Friday, August 23
Homegrown Docfest (7 p.m.)
Beth Harrington (10 p.m.)
Saturday, August 24
Best Short Documentaries 2008 (7 p.m.)
Best Feature Documentary 2008 (9:30 p.m.)
Sunday, August 25
"Young Voices, New Visions" (2 p.m.)
"A Celebration of Life on Two Wheels: Bikes!" (6 p.m.)
"A Celebration of Life on Two Wheels: Motorcycles!"
Monday, August 26
"Best of POWFest 2010" (7 p.m.)
"Best of POWFest 2011" (9:30 p.m.)
Tuesday, August 27
"Best of POWFest 2012: short films" (7 p.m.)
"Best of POWFest 2013" (9:30 p.m.)
Wednesday, August 28
"NW Documentary Retrospective" (7 p.m.)
"Further Afar: A Night of Adventure Filmmaking" (9:30 p.m.)
Thursday, August 29
"In Process" (7 p.m.)
"Keeping Portland Weird" (9:30 p.m.)
Friday, August 30
Ondi Timoner films and discussion (7 p.m.)
POWFest website:




NW Documentary website:
About "Homegrown Docfest"
You won't want to miss this summer's Homegrown DocFest at the Mission Theatre. We'll feature films produced during NW Doc's summer DIY Documentary workshop. This new batch of films includes the story of one man's unconventional childhood in Alaska, a look at organic farming, and an exploration of the connections between ADHD and entrepreneurship. We'll enjoy conversation with the filmmakers, beer & food, and a special performance from a charming group of square dancers.
About --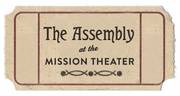 ... The Assembly
The Mission Theater – the place that first put beers into the hands of Portland theater-goers so many years ago – has proudly introduced a new line of programming, dubbed "The Assembly."
While retaining its relaxed environment, comfortable seating and matchless sightlines, the Mission is dropping its second-run movies, stepping up its food and beverage offerings, and – best of all – evolving the theater's programming dramatically. The core of The Assembly features film screenings with related lectures, interviews, and performances that bring cinema to life. And fans of Mortified, Miz Kitty and live music will be happy to learn that many of the live performances that we've all loved over the years will continue. After all, The Assembly's primary mission – engaging audiences with events that are both enriching and entertaining – has few boundaries!
So get your curiosity on and gather with us at The Assembly. There's a lot of world out there.
Map & Directions
Tags for this Event:
Events > History
Property > Mission Theater
Related content (tags):