A truly remarkable destination.
2126 S.W. Halsey St.
Troutdale, OR 97060
Local: (503) 669-8610
Elsewhere: (800) 669-8610
Contact Us
Pete Krebs
Tuesday, September 17, 2013
7pm-9pm |
Free |
21 and over
About Pete Krebs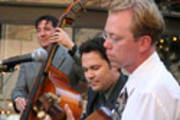 The Pete Krebs Trio is a string ensemble whose music evokes the early days of jazz, both American and European. Equal parts Nat King Cole Trio and Django Reinhardt, the PK3 draws from many musical traditions in creating the group's sound. From the wet cobblestones of Paris to the heat of Buenos Aires and the smoky brilliance of New York's jazz skyline, the Trio evokes an ambiance equally rooted in the past and the present.
Led by guitarist and singer Pete Krebs, the band features David Langenes on guitar and Keith Brush on upright bass. Pete has been busy member of Portland's musical community for 20 years, playing styles ranging from punk rock to old-time to classic jazz, and has shared the stage with everyone from Nirvana to The Holy Modal Rounders to Patrick Saussois. He is also an in-demand guitar teacher and session player. David Langenes is a jack-of-all-trades master guitarists whose skills and repetoire are rarely matched by mere mortals. Keith Brush on bass is the rock-steady heartbeat of many local musical legends, including the Blue Cranes and Bobby Torres. All three also play with Portland early jazz dynamos The Stolen Sweets, and have recently returned from Europe where the group played a fantastic series of concerts for the culturally-starved folks out that way. Ahem. The PK3 has released their self-titled first CD, which will features originals and the band's signature take on standards both old and new, and will feature guest artists from Portland?s musical aristocracy including Farnell Newton and Lou Chavez (not to mention a cameo by the Stolen Sweets girls!).
Map & Directions
Tags for this Event:
Property > Edgefield
Related content (tags):