A truly remarkable destination.
2126 S.W. Halsey St.
Troutdale, OR 97060
Local: (503) 669-8610
Elsewhere: (800) 669-8610
Contact Us
Ian McFeron
Tuesday, September 3, 2013
7 p.m. 'til 9 p.m. |
Free |
21 and over
About Ian McFeron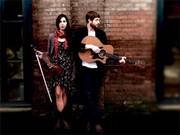 "With a jingle of tambourine we get a likely candidate for album of the year - simple as... Soaked in California sunshine one minute, then deep in the dustbowl the next, it's like a greatest hits of everyone you like." -Rudie Humphrey Americana UK, Review of Time Will Take You, 2013
Ian McFeron, whose writing has been compared to Bob Dylan, Ryan Adams and John Lennon, weaves together a variety of popular, rock, and Americana styles to create his own take on roots-American music.
McFeron got his start in the Seattle after his self-produced debut album was picked up by a major commercial radio station there. A recent college graduate at the time, McFeron was new to the scene but his tightly composed songs inspired the media giant to put the album's lead off single, "Love Me Twice," into rotation. Listeners responded strongly, and within months, McFeron would share the spotlight with international and national artists such as Patty Griffin, Nanci Griffith, Shawn Mullins, Brandi Carlile, Mike Doughty, Sister Hazel, Amos Lee, Hayes Carll, and Missy Higgins.
"...McFeron is a fine singer and songwriter, an alt-folk/rock/Americana performer who strikes a cool balance between the mellow and the edgy." -Jim Beal, San Antonio Express-News Music Critic
Early successes in Seattle drew McFeron into a full-time recording and touring career. Continuing to operate independently, he spent the next decade performing live at bars and coffee houses around the country, growing a small but loyal national audience and attracting grassroots media attention stretching across the Atlantic. He continued to add to his ever expanding discography, following up his debut album with six new records in rapid succession, exploring musical traditions ranging from rock to gospel, from folky-pop to alt-country, blues and swing. Currently, McFeron is on tour in support of his seventh album Time Will Take You, recorded in Nashville, TN with a cast of musicians drawn from Ryan Adams band The Cardinals as well as Patty Griffin and John Hiatt's touring bands.
Traveling and performing an average of 200 shows a year in the United States and Europe, McFeron inspires listeners with his skillfully crafted songs, honest narratives, and wry sense of humor.
"The best song on Summer Nights came at me like a hammer blow... I Ain't Dead Yet could easily be a great lost Dylan song from the mid 1960's or more likely a brand new Justin Townes Earle Song- it really is that good." -Alan Harrison, Maverick Magazine, UK
Map & Directions
Tags for this Event:
Property > Edgefield
Related content (tags):