In the heart of Oregon's wine country...
310 N.E. Evans Street
McMinnville, OR 97128
Local: (503) 472-8427
Elsewhere: (888) 472-8427
Contact Us
2014 New Year's Eve at Hotel Oregon
Dance Hall Days (Lodging package only)
with Free Music by
Billy D
Kris Deelane & Sharp Little Things
Tuesday, December 31, 2013
9 p.m. |
Free music by Billy D and Kris Deelane & Sharp Little Things; Lodging packages with music by Dance Hall Days start at $295 per couple |
21 and over
About 2014 New Year's Eve at Hotel Oregon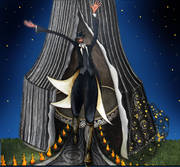 Make it a night to remember by booking one of our exclusive overnight packages and partying to the music of Dance Hall Days.
Free music in the Cellar Bar by Billy D and in the Paragon Room with Kris Deelane & Sharp Little Things.
About Billy D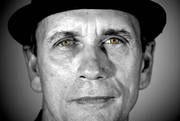 A recent "Best New Act" winner, Billy Desmond (Billy D) melds blues, rock, and at times nuances of country to create an "Original Backbeat Roots" style of music that has fueled timeless rock icons like ZZ Top and The Rolling Stones. Billy was born on the south side of Chicago where he grew up surrounded by the Blues, and being a child of the early Rock 'n' Roll era, the two influences blended into a powerful potion. He started playing professionally at teen dances and parties at the age of fourteen. By the age of eighteen, he was sneaking into the blues clubs of Chicago to hear such greats as Muddy Waters, Junior Wells, Buddy Guy, and James Cotton. Over the next ten years, he would work as a guitarist for Junior Wells, Big Time Sarah, and Detroit Junior.
In the mid '70s, he formed his first band, Skid City Blues Band, which featured Billy as singer, guitarist, and songwriter. After fifteen years of touring the midwest, Billy moved to Los Angeles in 1988. He spent that year studying with Blues great Tony Matthews, guitarist for Little Richard and Ray Charles and spent half of the next year playing behind, Don "Sugar Cane" Harris, perhaps the world's greatest blues violinist. Los Angeles is where he truly started focusing on writing his own material.
In the mid '90s, Billy moved to Santa Fe, New Mexico and began playing his original songs at local clubs and concerts to great acclaim. Within the next year, Billy D and the Hoodoos had formed. In August of 2002, with the help of some of the best musicians in New Mexico, he released his first CD, Tales From Hollywood (Real and Imagined). In 2003, She's The One from his first release was voted the number one song by a regional artist, at KTAO,the world's largest solar powered radio station. KTAO hosted the Annual Solar Fest in New Mexico where Billy D and the HooDoos appeared that year, opening for Los Lonely Boys and Robert Cray.
After his second CD, Rokdablu!, and several more successful years in New Mexico, Billy left the Southwest for the Northwest, arriving in Oregon around Christmas 2009. He released his newest CD "Somethin's Wrong," which was embraced by the Portland music community and received outstanding reviews.
So long as this life keeps lifin'...I'll keep rockin' --Billy D.
"Ain't nothin' wrong with Somethin's Wrong...this fine collection alternates between soulful blues ballads ("Somethin's Wrong," "Blue," and "Love Makes You Cry") and gritty slide guitar rave-ups such as the Thorogoodesque "50," and the stomper, "Crazy Little Dancin' Queen." --P. Vaughn Shaver, The Oregon Music News
"Many of the songs draw upon that gut-bucket punch that makes your body want to groove ("Crazy Little Dancin' Queen," "Charlene"), ballads that can make you tear up, ("Blue," "Love Makes You Cry"), swampy-sounding slide ("50"), or numbers that could easily cross over and find favor between blues and rock genres ("Miss The Love," "Save My Life"). --Greg Johnson, president of the Cascade Blues Association in Blues Notes
"The blues are steeped in tradition and, in many cases, arbitrary song structure. Rarely do blues-types successfully deviate from the formula with original material. But Billy D (Billy Desmond) not only pulls it off, but may have unknowingly created his own genre." --Archer, Production DIrector, KINK.FM
About Kris Deelane & Sharp Little Things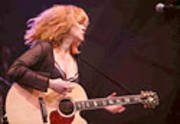 " ... the exceptionally fine and diverse vocals of Kris Deelane." -- Abilene Reporter-News Weekend, Abilene, Texas
Raised in suburban Los Angeles during the punk rock era, Deelane's influences were diverse - from The Beatles and Neil Young to The Pretenders, X, and The Plasmatics (Wendy O. Williams was a favorite). The sense of righteous defiance coupled with a tragic flair resonated in her, and continues to inform her music, art and style.
Deelane started her music career in college as keyboardist and singer in an Andrew Sisters-meets-B52s group called Alice, I Wonder. In 1990, she toured the Soviet Union singing in a production of Fiddler on the Roof. When she got back to LA, she got behind the drums for the first time in the band Slaughterhouse 5, and played bass in the ska band Timeboy.
Deelane went on to sharpen her songwriting and guitar skills on many tours with the nationally-acclaimed acoustic rock duo Adam & Kris. She took a break from the duo in 2000 to play guitar and percussion on tour with a reggae group that included the legendary Fully Fullwood, Rock Deadrick and Jawge Hughes.
In SweetJuice, Deelane alternated between guitar, drums and bass, while her vocal qualities earned her guest recording spots with nationally acclaimed groups the Decemberists and Jerry Joseph and the Jack Mormons.
More recently, Deelane has been putting her energy and vocal talents into developing her solo career. She's now in the process of playing lots of music, writing new material, and putting together the Kris Deelane Band. Be on the lookout for a performance of the KDB at a venue near you, because the girl can't help it that she likes to rock.
website:
Map & Directions
Tags for this Event:
Events:
McMenamins Celebrations
Holidays
Music:
Singer/Songwriter
Americana
Blues
Property > Hotel Oregon
Related content (tags):