An escape into the extraordinary
3505 Pacific Ave.
Forest Grove, OR 97116
Local: (503) 992-9533
Elsewhere: (877) 992-9533
Contact Us
Oktoberfest at Grand Lodge
John Bunzow Trio
Will West & the Friendly Strangers
Rocky Butte Wranglers
Chervona
High Fives Polka Band
Face painting by Amanda Killoran
Joe Mishkin "The Balloon Guy"
Saturday, September 28, 2013
All day; music starts at 1 p.m. |
Free |
All ages willkommen!
About Oktoberfest at Grand Lodge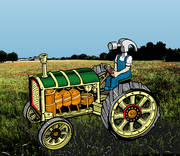 When you imagine Oktoberfest, what comes to mind? Oom-pah bands, loads of beer, bratwurst and hamburgers and more! One and all are welcome to participate in the German celebration that is Oktoberfest! Begun as a wedding party for Germany's Crown Prince Ludwig and Princess Therese in 1810, today Oktoberfest is celebrated all over the world with music, singing, dancing, beer, food and revelry.
** SCHEDULE **
1–3 p.m. · High Fives Polka Band at Pat's Corner
3–6 p.m. · Face painting by Amanda Killoran at Pat's Corner
3–6 p.m. · Balloon art by Joe Mishkin at Pat's Corner
3:30–5 p.m. · Chervona at Pat's Corner
5–6:30 p.m. · Rocky Butte Wranglers at Pat's Corner
7–10 p.m. · Will West & the Friendly Strangers at Pat's Corner
7–10 p.m. · John Bunzow Trio at the Garage Door
About John Bunzow Trio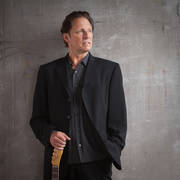 Portland, Oregon native John Bunzow has been called one of the finest writers and roots-musicians on the current music scene. Producer Pete Anderson (Dwight Yoakam, Meat Puppets, Steve Forbert) said he is "... without doubt the best artist I've heard in recent times." Chicago Tribune columnist Jack Hurst cites Bunzow with mixing "the rootsy with the revolutionary."
Bunzow's new CD, Darkness and Light, on Sideburn Records, was recorded live in a friend's basement studio. "I was itching to get back to my roots music," Bunzow says, "That's the vibe I wanted - all one-take vocal and guitar parts - just as they came down live. Just like we do out in the clubs."
John started playing professionally while attending the University of Oregon at Eugene, and following college; he spent 15 years playing clubs throughout the northwest United States. In the process, his fusion of roots rock and blues garnered an extensive fan following.The end result is that Bunzow's eclectic music is a melting pot of influences ranging from Dylan to Elvis Costello to Merle Haggard and Tom Waits.
website:
About Will West & the Friendly Strangers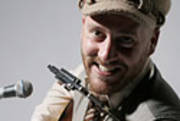 Carolina-born songwriter Will West performs with a rotation of acoustic musicians called The Friendly Strangers, featuring an array of fantastic Portland players on banjo, cello, mandolin, horns, percussion and other surprises.
Will West & The Friendly Strangers are fresh off the release of their new studio album called Take This Moment. Songs have been featured in KINK fm101.9 and KZME fm107.1 in the greater Portland area.
Carolina-born performer/songwriter Will West has called Oregon home since 2002. The son of a fiddle player, he cites bluegrass, delta blues and heavy metal music as some of his early influences. Now he finds inspiration in the amazing landscape of the Pacific Northwest.
West released his first album, Shine, in late 2006. Recorded with Rob Stoup (Imprints & Baseboard Heaters) at 8 Ball Studio in Portland, the album features Bob Soper (fiddle) and Noah Peterson (soprano sax).
His live performances continue to evolve and change. As a solo performer or with variations of a band, West pulls off fantastic acoustic guitar playing with smoothly delivered vocals and harmonica. Every show is an experience and it's all about the vibe...
"He incorporates rootsy, acoustic folk with a bluesy, almost hip-hop-like sense of rhythm. West is a funky, acoustic pop songsmith with a flare for lyricism and rich melodies." - Post & Courier (Charleston, SC)
"West's clean guitar and polished voice feel like warm sunshine through a car window." - Independent Weekly (Raleigh, NC)
"A favorite of those Delta Blues/Folk lovin' Types. Never performing a song the same way twice. This crooner is a storyteller with a soft touch. Check him out. " - Willamette Week
website:




MySpace page:
About Rocky Butte Wranglers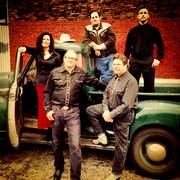 The Rocky Butte Wranglers play classic country covers and little-known gems from the '30s to the '70s, covering such artists as Ray Price, Webb Pierce, Rose Maddox, Wade Ray, the Carter Family, Buck Owens, Loretta Lynn and more.
The band is:
Kevin Healy - fiddle
Harley James - pedal steel
Mary Rondthaler - vocals & guitar
Russell Gores - upright bass
Kevin Major - drums
About Chervona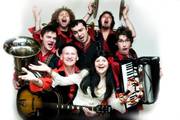 The band started practicing in Nov of 2006, and within first weeks of its existence they played at "Gypsymania" – gypsy dance discotheque created by Gogol Bordello's debaucher D.J. Dimon. After their first public appearances they rapidly gained popularity in their hometown. In 2007 Chervona played some special appearances with world famous Manu Chao and Gogol Bordello. By 2009 Chervona have shared stage with most exciting and famous Portland's bands including March Forth, 3 Leg Torso, Vagabond Opera, Portland Cello Project and many more.
In addition to countless street and club performances around pacific NW Chervona has played quite a few big stages, among them: Bite of Oregon, Northwest Folk Life festival in Seattle, Slavic Festival and Oregon Country Fair in Eugene, Red Marines festival in California, Under Volcano Festival in Vancouver (BC), Portland Polish Festival, Portland Pirate Festival, April Fool's Day Carnivals, Revolution Party in Portland and many others.
In 2008, Chervona appeared in Hale Mednick's locally produced, directed and shot independent film Messiah Complex. Two of their songs,"Chervona Wine"and "Girlfriends are a Pain", were featured on the soundtrack. "Messiah Complex" planned for screening at the 2009 Cannes Film Festival.
Chervona at its very first year playing City Repair benefit show 2007, opening for 3 Leg Torso.
During its first 4 years Chervona has played about 200 performances all over NW of America. Thousands of people from Vancouver, BC to Los Angeles watched, listened and danced to Chervona's music calling Chervona - Best NW Party Band!
Since 2008 Chervona is holding a monthly residency on every Last Thursday of the month at a legendary Portland venue, Alberta Public House with it's signature event Chervona Party!
In 2011, second monthly event was added to the calender - Chervona Secret Night on every second Saturday on a month at Secret Society Ballroom. Their second show in January 2011 at Secret Society was sold out and made a record for the clubs cocktail sales - the audience danced so hard that everyone got very thirsty.
As year 2011 is in progress, Chervona is focusing on producing new audio and video materials and establishing its e-net presence to gain more a solid fan base for the upcoming US and Europe tour and major label CD release.
Official Website:




Facebook Page:
About Joe Mishkin "The Balloon Guy"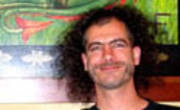 With his incredible balloons, his awesome juggling, his spirited music playing and his daring unicycling and fire juggling, Joe is sure to please your friends, your neighbors, your co-workers, your boss, and you, too!!
Map & Directions
Tags for this Event:
Events:
McMenamins Celebrations
Beer, Wine, and Spirits
Family
Music:
World Music
Singer/Songwriter
Americana
Alternative/Indie
Property > Grand Lodge
Related content (tags):