Back to school in Bend!
700 N.W. Bond Street
Bend, OR 97703
Local: (541) 382-5174
Elsewhere: (877) 661-4228
Contact Us
Brent Alan & His Funky Friends
7 p.m. |
Free |
All ages welcome
About Brent Alan & His Funky Friends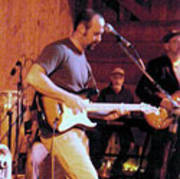 Brent Alan lays down his funkiest, most soulful grooves with his new seven-piece electric dream band. The long-time Central-Oregon music veteran carefully crafted this band specifically for wild dance parties and good time free-for-alls.
Check out the personnel! Uber-bassist Patrick Pearsall teams up with drummer Mitch Peay (of El Dante) to guarantee a solid funky foundation. Their dedication to sending dancers into orbit remains unrivaled. Spreading out the jams on percussion, Dale Largent and Shireen Amini keep it dangerous in all the right ways. Lay some icing on the cake with Scott Hirsch on keyboards and J. Patrick Lombardi on electric guitar. Sounds like some tasty sweetness to me.

BRENT ALAN
With a simple guitar in hand and a voice of mysteriously solid power, Brent Alan delivers us to the ever elusive spirit. His fans will eagerly tell you they have been taken to places not frequented in ordinary experience. The music pouring out of this man is linked to some vast force. Brent Alan has learned how to step out of the way and let the music come through.
Born in Hawaii, Brent first became musically inspired crawling around on the foot pedals of his father's Hammond Organ in the sultry tropical serenity of Oahu. It's no surprise you'll often find him writing melodies and lyrics while eating pineapple on the nose of his surfboard.
Central Oregon may be home today, but as a voracious traveler, Brent Alan is perpetually spreading his music across our planet. He is a favorite studio musician, record producer, and collaborator working with an enormous variety of contemporaries. Clearly, creating with others only adds to the constantly evolving dimensions of his own songwriting and performing.
The sheer number of instruments Brent Alan has befriended is indicative of a musician capable of a surprising number of musical styles. From rootsy, luminescent acoustic journeys to funky, gutsy, electric soul-jams he sews up the divide between the illusion of reality and the truth.
Like a chef in the throws of a culinary frenzy, Brent approaches his songs with a heart full of wild abandon, rejecting the common tendency to over-think the moment. Often described as captivating and inspiring, Brent Alan's music has been known to leave listeners moved, enchanted, even healed.
website:
Map & Directions
Tags for this Event:
Property > Old St. Francis School
Related content (tags):