Saloon & Hotel
836 N. Russell St.
Portland, OR 97227
Saloon: (503) 282-6810
Hotel: (503) 335-8900
Contact Us
Jesse Terry
Naomi LaViolette
7 p.m. |
Free |
21 and over
About Naomi LaViolette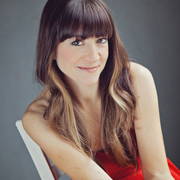 Portland, Oregon-based songwriter, pianist and vocalist Naomi LaViolette has found her niche in the marriage of two worlds: folk singer and jazz soulstress. Combining otherworldly Sarah McLachlan-like vocals with the soul of Joni Mitchell, Norah Jones' understated elegance and Ingrid Michaelson's playfulness, LaViolette's songs demand your attention.
LaViolette's 2012 eponymous debut album-which features ten original songs and her own arrangements of George Gershwin's "Our Love Is Here to Stay" and Joni Mitchell's "Both Sides Now"-was released to immediate critical acclaim. Oregon Music News wrote that she "shines" in her original tracks, The Portland Tribune praised her balanced combination of "chops" and "lyricism" and StereoSubversion.com proclaimed that "Naomi LaViolette is a siren, and if she isn't then she damn sure is possessed by one because it is impossible not to be ensnared by her jazzy vocal prowess." Produced and engineered by Dean Baskerville (Sheryl Crow, Everclear), Naomi fronts the album at the piano and sings lead and background vocals in addition to adding synths and harmonica into the mix.
An honest and in-the-moment songwriter, LaViolette composes from an authentic outpouring of life experiences. She writes songs about falling in love, staying in love, heartbreak, life's tough questions, and finding answers in surprising places. Born and raised in the Pacific Northwest, her songs often contain inspiration from the natural world, reflecting a sort of wild, uncontained beauty. "In artistic expression," says LaViolette, "we find places to stand in a world that is constantly changing. We discover what is most important in our lives, and understand our trials and joys at a deeper level because of them."
Her album showcases LaViolette's comfort with writing songs for a number of genres. Whether channeling Diana Krall on the rich piano ballad "Fragile," playing emotional piano pop on "Somewhere New to Stand," or getting flirty on the funky "Hey Yeah," LaViolette demonstrates her desire to not repeat the same thing over and over again. This focus on variety is not accidental. "I went into the record very open minded about the direction the album was going to head in," LaViolette says. "I had over 20 ideas for songs to put on the record. I like to play a lot of styles, and I like variety when I listen to records, so we decided to be eclectic while still having some unifying concepts, such as my voice and the way I sing, and a strong piano presence on every track."
LaViolette's roots are deep in classical music-she has a master's degree in classical piano performance-but she has also immersed herself in jazz standards, folk songs, soul, pop and gospel music. All these influences give her songs a musical vibe that is simultaneously vintage and current, and help to give her album a variety of moods and feelings for listeners to enjoy. She takes inspiration wherever she can find it, especially from other artists.
Not content to rest on her laurels, however, LaViolette is already pushing forward with new projects. In addition to touring in support of this record, she is commissioning songs for various outlets, and she released "Noel"-her own arrangement of the classic carol "The First Noel"-as a holiday single November 2012. The duet was recorded with Concert Rock Violinist Aaron Meyer.
Facebook:




YouTube Channel :




Official Website:




Myspace:
Map & Directions
Tags for this Event:
Music > Singer/Songwriter
Property > White Eagle
Related content (tags):