Saloon & Hotel
836 N. Russell St.
Portland, OR 97227
Saloon: (503) 282-6810
Hotel: (503) 335-8900
Contact Us
Black Lillies
Ryan Sollee (of The Builders and the Butchers)
8:30 p.m. |
$10 in advance, $10 day of show |
21 and over
Buy Tickets
Tickets on sale now!
About Black Lillies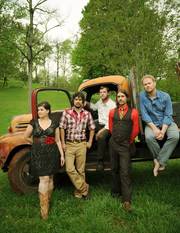 Black Lillies front man Cruz Contreras knows a thing or two about the road.
After co-founding Robinella and the CCstringband with his wife, he spent nearly a decade traveling the road and making music from coast to coast. When his marriage - and the band - dissolved in 2007, he returned to the road ... this time, as the driver of a truck for a stone company. It was here, over a year spent rolling down the highways of East Tennessee, that the songs and sounds that would form the nexus of The Black Lillies were conceived.
And "Runaway Freeway Blues," the band's third studio album, was realized exactly there ... on the road. When the Lillies weren't playing their 200-odd gigs during 2012, they were in Wild Chorus Studio in their hometown of Knoxville, Tenn., working with Scott Minor of Sparklehorse to craft a beautiful ode to restless spirits and rambling hearts. Rooted in the mud-rutted switchbacks of Appalachia, "Runaway Freeway Blues" is the sound of a band that's becoming something of a phenomenon across the country.
;
Contreras and his bandmates - harmony vocalist Trisha Gene Brady, multi-instrumentalist Tom Pryor, bass player Robert Richards and drummer Jamie Cook - have grown from a few friends sitting around campfires and living rooms to a band that shows up in far-flung cities where folks to whom they've never played before already know the words to the songs. Eschewing record labels, they still managed to put a track from the last record ("Same Mistakes," off of "100 Miles of Wreckage") in Country Music Television's top 12 requested videos for four months. (Its predecessor, "Two Hearts Down," was a top-requested video on CMT for three months.) They've been featured on numerous television specials and conquered festivals as widespread as Bonnaroo, Pickathon, and CMA Fan Fair. Despite trafficking in a richer, more authentic brand of country and Americana than what gets played on mainstream country radio, they've still been invited to perform at the Grand Ole Opry more than a dozen times - a record for an independent act.
The Black Lillies, in other words, have come a long way from those early days, when Contreras channeled heartache and regret into a stunning debut. "Whiskey Angel" was the sound of a man drowning his sorrows, and an introduction to someone who had languished behind the scenes for too long. As the guy who loaned out his initials to Robinella and the CCstringband, which flirted with national fame a few years ago with a hit ("Man Over") on Country Music Television, an appearance on "Late Night With Conan O'Brien" in 2003, and albums on both Sony and Dualtone, he was known best as a mandolin virtuoso and bandleader.
Starting over, he stunned friends and peers in the East Tennessee music scene with a voice that makes you think of Randy Travis or Dan Tyminski or even the great Ralph Stanley in his prime: steeped in regret, seasoned with pain and tempered in the fires of hard times. It served "Whiskey Angel" well, and when "100 Miles of Wreckage" was released in 2011, the band seemingly burst onto the national stage - spending five solid months in the Americana Music Association's radio charts (four of them in the top 15).
That record was the sound of a man taking stock of his life and his past, regarding the pain and the turmoil with a measure of wistful acceptance. Which brings us to "Runaway Freeway Blues," which finds the band focused on the horizon, filled with the nervous energy of excitement at the unknown future waiting on the other side of that distant hill, enthusiastic about the journey as much as they are about the destination.
The emotional arc of the new record is brilliant, so vivid and detailed with lush harmonies and instrumental virtuosity that's as powerful in the quieter moments as it is explosive during jubilant ones. You can cherry-pick any number of songs from "Runaway Freeway Blues" and find gold. Banjo, pedal steel, piano and everything else lift this record up on wings of uncommon grace and stunning vitality, and when Contreras and Brady combine their voices, it calls to mind classic duets from times long gone: George and Tammy. Gram and Emmylou. Johnny and June. From gentle Laurel Canyon folk rock to the honky-tonk heartache of classic country to winding jams, "Runaway Freeway Blues" is an album that defies easy categorization.
It was conceived on the road, inspired by the road and completed there as well: Contreras mixed the album while on tour, by phone and email, coordinating overdubs and guest instrumental appearances (Josh Oliver, formerly of the everybodyfields; banjo player Matt Menefee, who's toured with Mumford & Sons, Levi Lowery and Big & Rich; and a host of Tennessee's finest musicians on horns, harmonica and percussion) while playing into the wee hours of the morning, driving all night and setting up in the next city to do it all over again.
It's breakneck, brazen and beautiful. It's the sound of a band that's rooted in East Tennessee but more at home piled into a van stacked with gear, windows down and aimed toward the next gig. It's an album that lets long-time fans as well as relative newcomers to the Black Lillies phenomenon know that this train isn't stopping anytime soon. -- By Steve Wildsmith
Website:
About Ryan Sollee (of The Builders and the Butchers)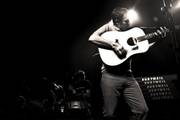 Ryan Sollee, lead singer of The Builders and the Butchers, has been endlessly touring throughout the last few years. From his beginnings playing on rainy Portland streets for random passersby, to the early unplugged Mississippi Pizza and Valentines' shows, to the last three years of endless touring - Ryan and the band live and die for their connection with the audience. Whether playing bar gigs for 50 people or opening arena shows for 3000, Ryan builds a connection with the audience every time he takes the stage.
The Builders went into the studio with the idea of peeling back layers to where the essence of the song lies, and to try and finally fully encapsulate their raucous, impassioned live show. Joining up with Adam Selzer (The Decemberists, M. Ward, She & Him), who worked on their sophomore album Salvation is a Deep Dark Well, and engineer Dylan Magierek (Mark Kozelek, Starfucker, Thao Nguyen), the band created their third album, Dead Reckoning, using the recording style of the 1950s and 1960s, where the magic of a song was captured by the band playing together live and with minimal overdubbing. The Builders tracked almost all of Dead Reckoning in live takes, with Ryan handling vocals and guitar in one room and the rest of the band playing in the other. With tracking and mixing taking a total of only eight days, the energy and intensity of time spent in the studio is immediately apparent on each song.
"In the studio, the most difficult element for a band to achieve is a fusion of the live performance with the recording. The act of recording is quiet, serene, and controlled - the opposite experience of a live show. Sound engineers, studio builders and audiophiles work their hardest to make a 'dead room' to record in," says Ryan. "It's no wonder so few records capture a band's true identity."
Dead Reckoning is an age-old method of sea navigation that involves using past position, speed, and drift to calculate current and future location. Dead Reckoning, with its classic, timeless sound, is a measure of where the band and its music, as well as these times in which we live, have been, are now, and where it all might be going. "I thought it would be a perfect title for the album given its stripped down sound, and how most of these songs tell stories, many of which are set in the past, " Ryan reveals. "Like our previous records, the settings of the songs follow a few main ideas: the father and the son, early 1900s America, absolute good and evil, addiction, and religion. On this album, I really thought a lot about the end of the world and the dark times we live in, how the feelings we feel and the world we experience is not that different from 1930s America, and I thought about the music that was created at that time. This is where the inspiration for these songs originated."
The Builders and the Butchers have had the opportunity to tour with Heartless Bastards, Portugal. The Man, Amanda Palmer, Brand New, and Murder By Death, to name a few.
website:




myspace:
Map & Directions
Tags for this Event:
Music > Americana
Property > White Eagle
Related content (tags):