A truly remarkable destination.
2126 S.W. Halsey St.
Troutdale, OR 97060
Local: (503) 669-8610
Elsewhere: (800) 669-8610
Contact Us
The Princess Bride (PG) [1987]
Outdoor Movies at Edgefield
Thursday, August 22, 2013
Dusk, following the Red Shed concert |
Free |
All ages welcome
About The Princess Bride (PG) [1987]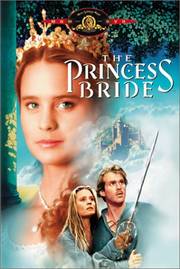 When a young boy falls ill, his grandfather pops round to visit him. To cheer his grandson up, Grandpa has brought a storybook; The Princess Bride, a tale of the love between the beautiful Buttercup and the besotted Westley, a love cruelly interrupted by Westley's tragic apparent death at sea when seeking his fortune. Heartbroken, Buttercup has sworn never to love again, but accepts the marriage proposal of the rich and handsome Prince Humperdinck, heir to the throne of Florin; but death is no barrier to true love, and in a story filled with exotically-accented swordsmen, big-hearted giants, genius kidnappers, sadistic torturers, vile swamps, Rodents of Unusual Size, the Dread Pirate Roberts and a somewhat embittered miracle worker, the love between Westley and Buttercup twists and turns on a path filled with adventure. Will the True Love of Westley and Buttercup win the day? Will Inigo Montaya find the six-fingered man who murdered his father? Will Humperdinck's evil plans come to fruition? And, more importantly, will Grandpa be able to tell the story without any of the yucky kissing?
About Outdoor Movies at Edgefield
Every Thursday evening through the summer, following our Red Shed Concert Series, we're showing an outdoor movie! Bring your own chairs and blankets to relax with family and friends. Food and drinks will be available for purchase.
Please note: No outdoor movies in case of rain.
Map & Directions
Tags for this Event:
Movie Types > All Ages
Property > Edgefield
Related content (tags):