Stephen Weizen
Beer Special of the Day
and
"Meet Your Maker"
Brewer Stephen Harper
part of
Oregon Craft Beer Month
11 a.m. tapping; afternoon meet the brewer |
Special beer pricing |
21 and over to drink
About Stephen Weizen
Named for the best brewer in the "Oak Hills Village" strip mall, I have made a traditional German wheat beer or Weizen. The part that makes it so unique is the yeast. The strain used is called Weihenstephan. It produces flavors that include spicy clove and fresh banana. This Weizen has medium body but suspended yeast may increase the perception of body. The texture of wheat imparts the sensation of a fluffy, creamy fullness that may progress to a light, spritzy finish aided by high carbonation. This style is always effervescent and always satisfying. Thank you for coming. I hope you enjoy the Stephen.
Malts: Malted German wheat, Vienna, pilsner
Hops: Nugget, Sterling, Brewers Gold
OG: 1.052 TG: 1.009 ABV: 5.5 IBU:28 SRM: 7
About Oregon Craft Beer Month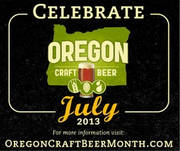 July is Oregon Craft Beer Month, a time to celebrate the many handcrafted ales, lagers, pilsners and stouts that McMenamins brews right onsite at many of our properties. So we're toasting this auspicious month with special beer events and tastings.
Oregon Craft Beer Month:




Oregon Brewers Festival:
Map & Directions
Tags for this Event:
Events > Beer, Wine, and Spirits
Property > Oak Hills Brewpub
Related content (tags):