30340 SW Boones Ferry Rd
Wilsonville OR 97070
Phone: (503) 427-2500
Fax: (503) 427-2519
Contact Us
Windy Hill
Music in the Amphitheater
6 p.m. |
Free |
All ages welcome
About Windy Hill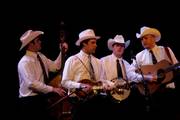 It's immediately evident at a Windy Hill show that the band is excited about bluegrass music and have big fun picking and singing. They're becoming increasingly well-known - and are winning awards - for their entertaining performances.
Windy Hill began as an idea in a Menlo Park (CA) High School woodshop class, where two 17-year-old friends sat around their work station sanding their projects and talking about live music. They discovered a mutual love for the songs of Bill Monroe, Carter Stanley, and Jimmy Martin and set out to learn to play and sing bluegrass music.
In 2008, these two friends - Henry Warde and Ryan Breen - found themselves in Fort Collins, Colorado, and started their band. Windy Hill was always the natural choice for the band name, as Ryan's backyard in Portola Valley, CA, overlooks the town's landmark - a golden hill separating the SF Bay Area from the Pacific Ocean.
The next year, they returned to California and another bluegrass-loving member of their high school class, Kyle McCabe, joined the band. Henry (mandolin), Ryan (banjo), and Thomas Wille (guitar) usually form the band's power trio, while Kyle (bass) holds down the beat.
About Music in the Amphitheater
Outdoor tunes! If the weather turns, we'll head inside to the Church. But what if it's booked?! Well, we wouldn't want to intrude on someone's wedding or something, so we'll have to cancel in that case. You win this round, Mother Nature!
Map & Directions
Tags for this Event:
Music > Americana
Property > Wilsonville Old Church & Pub
Related content (tags):