A truly remarkable destination.
2126 S.W. Halsey St.
Troutdale, OR 97060
Local: (503) 669-8610
Elsewhere: (800) 669-8610
edge@mcmenamins.com
2014 New Year's Eve at Edgefield
The Roseland Hunters
with
Free Music by
Sassparilla
Will West & The Friendly Strangers
Tuesday, December 31, 2013
9 p.m.

|
Free Music by Will West and Sassparilla; Lodging packages with music by Roseland Hunters start at $275 per couple |
21 and over
About 2014 New Year's Eve at Edgefield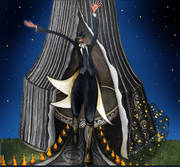 Make it a night to remember by booking one of our exclusive overnight packages and partying to the big band New Orleans funk of the Roseland Hunters in Blackberry Hall.
There is also free music at the Loading Dock heated tent with Americana roots rock from Sassparilla, and at the Winery with Will West.
Get all the details on our special 2014 New Year's Eve Celebration page.
About The Roseland Hunters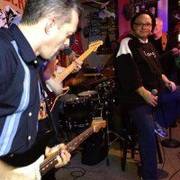 Loud, funky New Orleans -inspired music.
About Sassparilla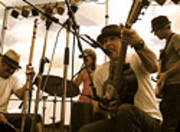 Sassparilla was fermented in the bold-dank regions of Chicago and Pittsburgh and spewed onto the sidewalk of Portland's 24th & Alberta from the mouth of a 5-gallon bucket, with homemade instruments in their clutches: a cigar-box guitar made from Granny's old jewelry box, a washtub bass given a severe beating with a stick, a polka dotted bucket drum kit with rusty break-drum & a hat-box bass. Adding to the mix is a smooth, lulling washboard's rat-tatting - articulated by a man named "Sweet Pea'" and a melodic and blustery fiddle/harmonica duo that dances and interjects like a muscular horn section. With passion, fury, speed, hustle and emotion, the whiskey rains like hellfire, the fingers fly over resonators, and this sextet muster their collective will to never play like cowards.
The result is a one-of-a-kind concoction of homemade, punk-infused, Portland blood-jug holler music.
About Will West & The Friendly Strangers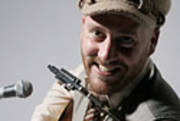 Carolina-born songwriter Will West performs with a rotation of acoustic musicians called The Friendly Strangers, featuring an array of fantastic Portland players on banjo, cello, mandolin, horns, percussion and other surprises.
Will West & The Friendly Strangers are fresh off the release of their new studio album called Take This Moment. Songs have been featured in KINK fm101.9 and KZME fm107.1 in the greater Portland area.
Carolina-born performer/songwriter Will West has called Oregon home since 2002. The son of a fiddle player, he cites bluegrass, delta blues and heavy metal music as some of his early influences. Now he finds inspiration in the amazing landscape of the Pacific Northwest.
West released his first album, Shine, in late 2006. Recorded with Rob Stoup (Imprints & Baseboard Heaters) at 8 Ball Studio in Portland, the album features Bob Soper (fiddle) and Noah Peterson (soprano sax).
His live performances continue to evolve and change. As a solo performer or with variations of a band, West pulls off fantastic acoustic guitar playing with smoothly delivered vocals and harmonica. Every show is an experience and it's all about the vibe...
"He incorporates rootsy, acoustic folk with a bluesy, almost hip-hop-like sense of rhythm. West is a funky, acoustic pop songsmith with a flare for lyricism and rich melodies." - Post & Courier (Charleston, SC)
"West's clean guitar and polished voice feel like warm sunshine through a car window." - Independent Weekly (Raleigh, NC)
"A favorite of those Delta Blues/Folk lovin' Types. Never performing a song the same way twice. This crooner is a storyteller with a soft touch. Check him out. " - Willamette Week
website:




MySpace page:
Map & Directions
Tags for this Event:
Events:
Holidays
McMenamins Celebrations
Music:
Americana
Blues
Alternative/Indie
Property > Edgefield
Related content (tags):