An escape into the extraordinary
3505 Pacific Ave.
Forest Grove, OR 97116
Local: (503) 992-9533
Elsewhere: (877) 992-9533
Contact Us
Pete Kartsounes
Friday, September 27, 2013
7 p.m. |
Free |
All ages welcome
About Pete Kartsounes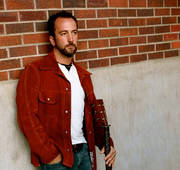 "The songs of Pete Kartsounes rival the caliber of the great songwriters of our time and are prolific beyond description." -Gus Skinas, Sonoma Systems
As a cutting-edge musician, Pete Kartsounes is fulfilling a vision of writing music with meaning. The performer/songwriter has spent most of his life creating original music that entertains and enlightens. Through the years, his music has evolved to inspire on deeper levels and provide a helping hand to others. Led by his heart and fueled by his soul, Pete is on a quest to make a difference, being captured in his music and celebrated in his life.
At the foothills of the Rocky Mountains, Pete writes award-winning songs about love, loss, hope, and adventure. In 2009, he earned his newest award as first runner-up in Telluride's prestigious Troubadour Competition. He is a musical craftsman and truly limitless artist whose songwriting draws from a myriad of musical traditions, including folk, blues, jazz, and bluegrass. Writing ballads and compositions, Pete is best described as a story teller, weaving a tale through his music, taking listeners on a soulful journey. His smoky voice is complemented by a soft texture with depth that stretches beyond his years, as he sings with all-consuming passion and conviction.
Pete is an energetic performer who has shared the stage with many renowned artists including Jerry Garcia Band, Del McCoury Band, Bill Kreutzmann (Grateful Dead), moe, North Mississippi All-Stars, The Radiators, The Neville Brothers, John McEuen, Leftover Salmon, and Yonder Mountain String Band. In 2000, Pete was chosen to write and record with Dave Kruzin of Pearl Jam, and members of Blues Traveler.
He also hosts his own band, Pete Kartsounes Band (PKB) and Trio, featuring Kevin Malone on bass and Ryan Sapp on drums, with talented guests often sitting in. The diverse musicians boast a wide range of skills and instruments, opening the playing field to almost limitless possibilities. The band and trio provide a fuller, richer live performance with the power to ignite a room and crowd, while solo shows offer listeners an intimate musical encounter that is unique and captivating.
Originality is a cornerstone as Pete continues to write a plethora of great songs and music. January 1, 2011 marked the exciting culmination of his newest musical vision and production with the official release of his fourth studio album, The Only Way I Know. Capturing yet another side of his diverse artistic expression, the soulful album is an eclectic fusion of musical styles, accented by unique arrangements and a variety of instruments. It features his band and many additional talented artists, including Jeremy Garrett of The Infamous Stringdusters on fiddle and Bill McKay of Leftover Salmon playing the B3 Hammond Organ. Pete's warm, consuming vocals convey the depth and raw emotion of his carefully crafted lyrics, weaving a tale of hope through the songs, encouraging belief in our dreams, ourselves, and a better tomorrow.
His third studio album, Out of Nowhere, was released in 2007, gaining national exposure. It is a tasteful blend of original music entwined with acoustic overtones and superb musicianship. The album also includes many talented guests, including Grammy Award Winner Sally Van Meter, Drew Emmitt of Leftover Salmon, Travis Book of The Infamous Stringdusters, and Jeff Austin of Yonder Mountain String Band. The recording was done in Direct Stream Digital (DSD) format by sound wizard Gus Skinas, who has experience collaborating with many great artists including Bob Dylan, Bruce Springsteen, and Pink Floyd.
Continuing his mission to make a difference, Pete created a non-profit organization in 2007 called the Hike4Cancer Foundation. Combining his love of music, the outdoors, hiking, and community, his foundation helps sustain organizations that provide support for families with children battling a critical illness. Additionally, Pete volunteers his time each summer to hike the 500-mile Colorado Trail, playing live shows along the way, while raising money and awareness for this important cause.
Website:
Map & Directions
Tags for this Event:
Music:
Americana
Singer/Songwriter
Property > Grand Lodge
Related content (tags):