Saloon & Hotel
836 N. Russell St.
Portland, OR 97227
Saloon: (503) 282-6810
Hotel: (503) 335-8900
Contact Us
California Wives
My Gold Mask
Pheasant
8:30 p.m. |
$8 in advance, $10 day of show |
21 and over
Buy Tickets
Tickets on sale now!
About California Wives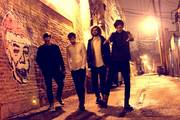 Jayson Kramer, Hans Michel, Dan Zima, and Joe O'Connor met through friends in Fall 2008. Having bonded over bands like New Order, The Police and the Cure, the group began playing together in early 2009. They called themselves California Wives in reference to one of Michel's jokes. The Wives began playing their first shows in Chicago in 2009 and quickly gained a following. They continued to work on their sound, incorporating childhood favorites from early 90's alternative radio, like fellow Chicagoans Smashing Pumpkins, as well as newer groups from the independent scene.
In 2010 the group recorded Affair, which featured early versions of songs such as Purple and Blood Red Youth. Expecting the EP to cement their reputation as an act to pay attention to in Chicago, the group was surprised when Affair gained the attention of music blogs outside of Chicago in Fall 2010. A few months later, the band recorded and released, "Tokyo," further hinting at the potential shown on Affair. The band had not booked a tour around the EP or the single, but used the opportunity to play South by Southwest in Spring 2011.
The trip to SXSW led to a contract offer from Vagrant Records and the group began working on what would become Art History. California Wives, now a three piece after Michel's departure from the group, recorded Art History in the beginning of 2012 with Kramer playing lead and rhythm guitar, as well as keyboards during the recording.
Once recording was finished, the group recruited guitarist Graham Masell and began work on their performance in anticipation of Art History's release. With Masell's added personality to songs, originally recorded by three members, California Wives' live performances have a character unique from the record. Seeking to capture a full band's performance of these songs, California Wives filmed live versions of each of the songs on their debut record and will release the videos in Spring 2013. Following the filming, Zima departed to pursue his own musical projects. California Wives, now consisting of Kramer, O'Connor, and Masell are set to release Art History on vinyl in June 2013 and will be on tour nationwide in support of the limited pressing.
About My Gold Mask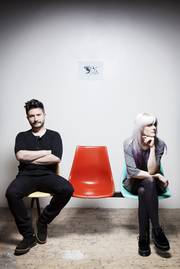 At the crossroads of underground and over the top, zoned in and plugged out, raw and riotous, lives Chicago's My Gold Mask. The dark pop band's exotic gypsy spells and murderous garage rock ballads have built a unique wall of sound that some have likened to a metallic symphony-pretty impressive when you consider My Gold Mask has, until recently, been a duo.
Lead vocalist and percussionist Gretta Rochelle first met guitarist Jack Armondo at a rooftop party; their first words to each other were about music, and ever since the conversation has stayed there, resulting in two well-received EPs in 2010: A Thousand Voices and A Million Miles (From Where We Were Last) as well a self-titled debut LP and the band's latest, 2013's Leave Me Midnight, all of which has Pitchfork calling them "a band to watch."
Website:
About Pheasant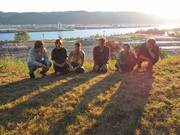 From its roots in lead singer Matt Jenkins' lone guitar to the dynamic 5-piece combo they are now, Pheasant has always been about the songs. Through their early lineup changes, the songs have remained as the beating core-have expanded and evolved into the tightly-orchestrated folk/pop tunes they are now. With the latest addition of trumpets and keys, Pheasant is ready to make you explore the junction where Bob Dylan and Isaac Brock met, where you find yourself wearing your father's jacket, where sincerity is the least ironic thing. But don't be surprised if you feel the need to dance too. Pheasant is simple and alive, is raw but refined, is rock but not without the soul.
Myspace Page:




Facebook Page:
Map & Directions
Tags for this Event:
Music > Rock
Property > White Eagle
Related content (tags):