Come have fun in school... for once...
5736 N.E. 33rd Ave.
Portland, OR 97211
Local: (503) 249-3983
Elsewhere: (888) 249-3983
Contact Us
Ed & the Boats Reunion
7 p.m. |
Free |
All ages welcome
About Ed & the Boats Reunion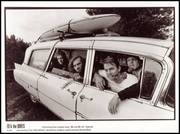 If Elvis Costello fronted XTC, but some of them grew up in Wisconsin and listened to Frank Zappa and old Motown tunes and watched the Brady Bunch - you might end up with Ed & the BOATS.
In 1991 the unorthodox pop-rock band Ed & the BOATS* released their CD "Live the Dream" - the culmination of a long and storied musical career. Soon after Academy award-nominated director Harrod Blank chose their track "Me & My Car" as the theme song for his documentary movie "Wild Wheels." The film is an ode to "art cars" - outrageously decorated vehicles that serve as personal, artistic statements of their iconoclastic owners. The Boats became the perfect accompaniment to Blank's national film release - they traveled 3,000 miles in a '64 Chevy van to help Blank open the film at such prestigious venues as the New York Film Forum and the Harvard Film Archive. Along the way the band earned opening slots for Live, Ani Difranco and the Mighty, Mighty Bostones.
The Boats are comprised of close friends: songwriters Dan Haley and Dennis Kenny; bassist Greg Newman; and drummer Randy Givens - so they occasionally reunite to play special gigs - a recent performance at a Pete Krebs benefit led to tonight's performance. Expect special guests and more!
* Note: No one in the band is named "Ed." The audience is the collective "Ed."
Map & Directions
Tags for this Event:
Property > Kennedy School
Related content (tags):