10000 N.W. Old Cornelius Pass Rd.
Hillsboro, OR 97124
(503) 645-3822
Fax: (503) 439-1059
Contact Us
Irish Sundays
Hanz Araki & Kathryn Claire
6 p.m. |
Free |
All ages welcome
About Hanz Araki & Kathryn Claire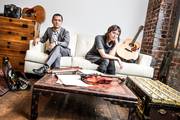 Award-winning Irish flute player Hanz Araki is the quintessential world music musician. After six generations, the name Araki is synonymous with the Japanese shakuhachi (an end-blown bamboo flute) which Hanz mastered making his professional debut in 1988. After four years of concert appearances and teaching at the prestigious Keio University in Tokyo, Japan, Hanz returned to his hometown of Seattle, WA and found himself drawn to the world of Celtic music. The penny-whistle and the Irish flute became his single-minded focus, and jigs and reels became a second language. His unique style and passion were soon recognized and met with high praise.
Hanz also discovered his voice was well-suited to the songs of Scotland, Ireland, and England and is highly regarded for his interpretation of folk songs in what is one of the most exciting living traditions.
After several tours across the US, Canada, and the UK (first with the Juno Award winning Paperboys, then Casey Neill) as well as a return to Japan, now as a well-respected Irish flute-player, Hanz moved to Portland, OR in 2006. This move proved to be most fortuitous as it led to the musical partnership with Kathryn Claire.
A self-taught guitarist and accomplished vocalist and fiddle-player, Kathryn has asserted herself in a new generation of traditionally-inspired musicians. Her violin-playing exhibits a technical grace which is matched only by her truly captivating voice. While she possesses the rare ability to move seamlessly across genres, her love and deep respect for traditional music has long been a driving influence, and those roots can be heard in her own original music.
Early classical training gave her a strong foundation, but naturally gave way to her own creative inclinations. Kathryn taught herself guitar at a young age in order to explore her own voice as a songwriter and accompanist. She has spent years cultivating her craft as a violinist, singer and songwriter.
Kathryn and Hanz quickly discovered their shared love of harmony, and a creative process began that has produced a tremendous body of work. Their shared passion for traditional music is magnetic and they have become a favorite at music festivals and venues in the US and abroad.
Frequent collaborators include Cary Novotny, Joe Trump, and Cal Scott, (US); Takeaki Nagahama, Aiko Obuchi, and Hirofumi Nakamura (Japan).
Map & Directions
Tags for this Event:
Property > Rock Creek Tavern
Related content (tags):