10000 N.W. Old Cornelius Pass Rd.
Hillsboro, OR 97124
(503) 645-3822
Fax: (503) 439-1059
Contact Us
Rock Creek Hoedown!
Anniversary Celebration
with Live Music by
Lynn Conover & Gravel
Garcia Birthday Band
Uncle B & Auntie E & J Dog
All day! Music starts at 2 p.m. |
Free |
Minor w/parent 'til 10 p.m.
About Rock Creek Hoedown!
Come celebrate this country gem's anniversary with great food specials, live music and more!
2 p.m. 'til 4 p.m.
Classic kids' music
Uncle B & Auntie E & J Dog

5 p.m. 'til 8 p.m.
Psychedelic relived
Garcia Birthday Band

9 p.m.
Alt. country rock
Lynn Conover & Gravel
About Lynn Conover & Gravel
Lynn Conover has been a fixture on the Portland folk circuit for nearly twenty years, performing in popular duos with Little Sue and Lowell John and playing with the Welfare Ranch Rodeo, Billy Kennedy, and the Lynn Conover Trio, among countless others.
Willamette Week says that Conover's voice is " a weirdly ethereal wail that sounds like all three Furies merged into one," and Two Louies Magazine adds that she creates "an interesting and entertaining blend of country, folk and blues."
About Garcia Birthday Band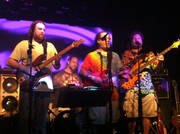 Garcia Birthday Band (GBB), based in Portland, Oregon, is a group of veteran musicians interpreting and celebrating the vast repertoire of the late Jerry Garcia and The Grateful Dead.
But this isn't a "tribute band!" Drawing on years of individual and shared experience, these players are able to craft and transform these tunes into something fresh and original. Solid chops, tight arrangements and fine harmonies all contribute to the band's musical travels and explorations of possibly the greatest and most diverse songbooks of all time.
Always sure to raise the roof and keep the dance floor rocking, hoppin' and shakin', the band's quickly growing "GBB Family" fan base finds the community spirit and kind vibes contagious.
Music-lovers with a wide variety of tastes enjoy this band's extensive playlist which includes classics from Bob Dylan, Smokey Robinson, The Beatles, Johnny Cash, Chuck Berry, Jimmy Cliff, Traffic, Dr. John, Merle Haggard, The Meters, Neville Brothers, Buddy Holly, Otis Redding, Warren Zevon, Rev. Gary Davis, Bruce Cockburn, and Peter Tosh, to name a few. If your musical tastes range from rock-and-roll, country, R&B, blues, bluegrass, folk, or Americana, you will dig this band. No need to be a Deadhead.
With musicians hailing from the likes of New Riders of the Purple Sage (NRPS), David Nelson Band, Kingfish, Cubensis, Buds of May, Ike Willis Band, Brothers Jam and LOOS3, this band is certain to provide high musical adventure!
Band Members:
Arthur Steinhorn - Drums
Scott Gillan - Bass & Vocals
Justin Pacuska - Guitar & Vocals
Jon Sokol - Guitar & Vocals
website:




facebook:




video:




audio:
About Uncle B & Auntie E & J Dog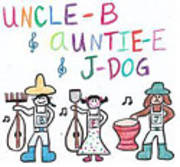 Uncle-B, Auntie-E, and J-Dog lived with friends and animals on their farm in Montana where they grew fruits and vegetables (eat them every day!) One day J-Dog told Uncle-B and Auntie-E about growing up on a farm in Oregon and hearing stories about a magical, musical instrument tree in that silly place. When winter came, Uncle-B, Auntie-E, and J-Dog decided to close up the farm in Montana and head west to gather some instruments up from the tree. They settled in Portland, OR where one of them teaches music in an elementary school, one of them is a scientist, and one of them is a professional musician and sells things. Sometimes they go back to visit their friends and animals on the farm in Montana and write songs around the campfire.
website:
Map & Directions
Tags for this Event:
Music:
Groove/Jam
Rock
Singer/Songwriter
Property > Rock Creek Tavern
Related content (tags):