Back to school in Bend!
700 N.W. Bond Street
Bend, OR 97703
Local: (541) 382-5174
Elsewhere: (877) 661-4228
Contact Us
Craig Carothers
7 p.m. |
Free |
All ages welcome
About Craig Carothers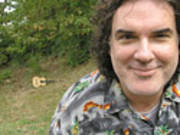 As a singer-songwriter, Craig Carothers has played nightclubs and concerts from Los Angeles to Stockholm for the last 20 years.He has shared the stage with more than 100 acts including Mose Allison, Jonatha Brooke, Bruce Cockburn, Paula Cole, Ry Cooder, Crash Test Dummies, Donovan, Robben Ford, John Hiatt, Leo Kottke, Patty Larkin, Little Feat, Little River Band, Michael McDonald, Anne Murray, Boz Skaggs, Toad The Wet Sprocket, Richard Thompson, Jethro Tull, Loudon Wainright III and Warren Zevon.
Points of moderate interest: Carothers received the Portland Music Association's Crystal Award for both "Best Folk Act" and "Best Single." In the fall of 1995, he signed a publishing contract with Nashville-based Crossfire Entertainment/Almo Irving Music about the same time MCA Country recording artist Trisha Yearwood recorded his song "Little Hercules." That same year, Carothers was a winner at both the Napa Valley Music Festival's Emerging Songwriter Showcase and the Austin Songwriters Contest. Since then Kathy Mattea and Lorrie Morgan have also recorded his songs.
Carothers has spent a fair amount of time producing albums for other independent artists and has also created original soundtracks and written and performed songs for a number of films -- Redline, Claire Of The Moon, Wee Sing Under The Sea, and Living With Cancer. In addition, he has been the singing or speaking voice for Solo-flex, Nike, Nordic-Flex, Waltham Pet Foods and Random House "Books On Tape."
"...the right mix of weary-eyed cynicism and helpless hearted romanticism..." - Performing Songwriter Magazine
"He has a voice that should be famous." - Patty Larkin
Map & Directions
Tags for this Event:
Music > Singer/Songwriter
Property > Old St. Francis School
Related content (tags):